Managerial Economics: Theory, Applications, and Cases, 8th Edition International Student Edition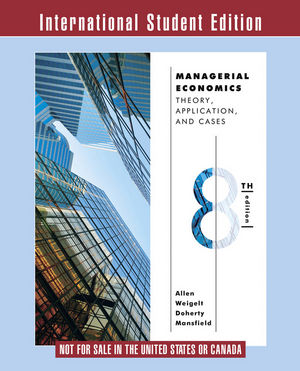 Managerial Economics: Theory, Applications, and Cases, 8th Edition International Student Edition
ISBN: 978-0-393-12005-9
*Norton agency titles
736 pages
Product not available for purchase
Description
Thoroughly updated to reflect the post-crisis, global, and digital economy.

Modernized for the 21st century, the Eighth Edition emphasizes strategic thinking by managers and includes over 50 new case studies on events from 2010 to 2012 that prepare students for today's changing economy.
Part 1: The Need for A Guide
Chapter 1: Introduction
Part 2: The Nature of Markets
Chapter 2: Demand Theory 
Chapter 3: Consumer Behavior and Rational Choice 
Chapter 4: Estimating Demand Functions
Part 3: Production and Cost 
Chapter 5: Production Theory 
Chapter 6: The Analysis Of Costs
Part 4: Market Structure and Simple Pricing Strategies Chapter 7: Perfect Competition 
Chapter 8: Monopoly and Monopolistic Competition
Part 5: Sophisticated Market Pricing
Chapter 9: Managerial Use of Price Discrimination
Chapter 10: Bundling and Intrafirm Pricing
Part 6: The Strategic World of Managers
Chapter 11: Oligopoly 
Chapter 12: Game Theory 
Chapter 13: Auctions
Part 7: Risk, Uncertainty, and Incentives
Chapter 14: Risk Analysis 
Chapter 15: Principal–Agent Issues and Managerial Compensation 
Chapter 16: Adverse Selection
Part 8: Government Action and Managerial Behavior
Chapter 17: Government and Business 
Chapter 18: Optimization Techniques
Appendix A: Technological Change and Industrial Innovation 
Appendix B: Business and Economic Forecasting 
Appendix C: Discounting and Present Values 
Appendix D: Answers to Select End-of-Chapter Problems
Appendix E: Tables
Index
Reflective of today's constantly evolving business environment
A wealth of updated case studies introduce students to today's economy. New or updated case studies include the Roles of the Chief Innovation Officer; Water Shortage Problems in China; Apple, iPads, and Monopoly; and Netflix and Bundling/Unbundling. Revisions to the coverage of consumer theory, producer theory, market structure, and pricing, as well as chapters on game theory, auctions, risk analysis, principle–agent issues, and adverse selection are relevant to today's business climate.
Introduces student to strategic thinking
The authors weave their experience as business strategists throughout the book, ensuring that students a tangible focus on strategic thinking.
An Emphasis on problem solving
Managerial Economics has more solved problems than any competing text. These "Problem Solved" exercises relate directly to real-world business decisions and prepare students to tackle end of chapter and exam questions.