Managing Bermudagrass Turf: Selection, Construction, Cultural Practices, and Pest Management Strategies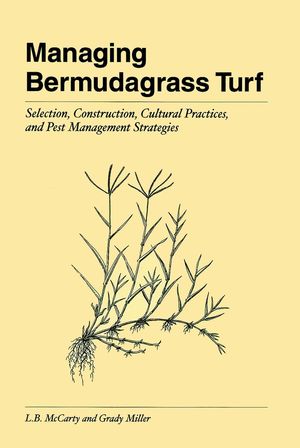 Managing Bermudagrass Turf: Selection, Construction, Cultural Practices, and Pest Management Strategies
ISBN: 978-1-575-04163-6
Jan 2002
256 pages
Description
If you're determined to create and maintain a beautiful bermuda-grass turf, then let this comprehensive reference be your guide. Here, you'll receive expert information on the fundamentals of green construction and growing-in processes, along with step-by-step cultural practices, and critical techniques for controlling weeds, insects, diseases, and nematodes. You get a comprehensive listing of the various bermudagrass species, complete with scientific and common names, propagation, and worldwide distribution. You'll also find out why and where certain weeds are likely to grow and what cultural or chemical remedies best keep them in check. Nearly 600 photographs illustrate the various stages of plant development and emphasize the key identification characteristics of each plant.
I: INTRODUCTION.

1. Bermudagrass Characteristics.

II: BERMUDAGRASS GOLF GREEN CONSTRUCTION AND ESTABLISHMENT.

2. Site Selection;
Green Establishment and Grow-In.

III: MANAGING BERMUDAGRASS GOLF GREENS.

3. Cultural Practices.

4. Overseeding.

5. Selected Stresses of Bermudagrass.

IV: PEST MANAGEMENT AND CONTROL.

6. Weed Control and Plant Growth Regulator Use.

7. Insects.

8. Nematodes.

9. Diseases.

Bibliography.

Index.