Managing Business Improvement and Quality: Implementing Key Tools and Techniques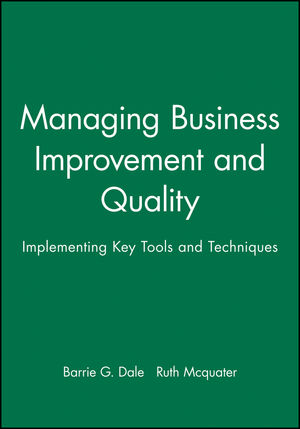 Managing Business Improvement and Quality: Implementing Key Tools and Techniques
ISBN: 978-0-631-20787-0 March 1998 Wiley-Blackwell 208 Pages
Description
Any management team interested in making best use of tools and techniques would benefit from studying the contents of this book. A conscious effort has been made to produce the text in language which is free from jargon.
Table of contents
Preface.
1. The Role of Tools and Techniques in Total Quality Management.
2. Tools and Techniques: An Introduction.
3. Difficulties Encountered in the Use of Tools and Techniques.
4. Key Influences on the Use of Quality Management Tools and Techniques.
5. Implications for Education and Training.
6. An Overview of Common Tools.
7. An Overview of Common Techniques.
8. Tools and Techniques: An Assessment Methodology.
References.
Index.
Features


Provides students and managers with a complete overview of all the business.


Improvement techniques presently used internationally.


Based on widespread research involving the collaboration of 18 organisations on 31 manufacturing sites in the UK, US and Europe.


Focuses not just on the tools but on understanding the underlying methodology of their applications.


Contains real case histories of best practice.