Managing Chaos and Complexity in Government: A New Paradigm for Managing Change, Innovation, and Organizational Renewal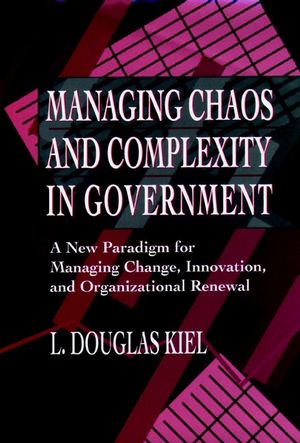 Managing Chaos and Complexity in Government: A New Paradigm for Managing Change, Innovation, and Organizational Renewal
ISBN: 978-0-787-90023-6
Sep 1994, Jossey-Bass
246 pages
Description
To keep government operating smoothly, changes in public management policy and strategy usually follow the old rule of change--that it must evolve in a systematic and incremental fashion. But in today's unpredictable world of shrinking budgets, demands for better service, and greater accountability, playing by the old rules just doesn't make sense.

In this book, L. Douglas Kiel presents a framework that addresses the new chaotic reality of public management and the need for responsive change and innovation. By acknowledging the potential for positive change and renewal that can arise from uncertainty and instability, Kiel offers managers a paradigm for transforming government performance.

In easy to understand terms, the author offers an overview of the concepts of chaos theory and the science of complexity and he demonstrates how public administrators can apply these concepts to create a new vision of organizational change. The book presents a range of both traditional and innovative management techniquesshaping organizational cultures, flattening hierarchies, and re-engineering work--and evaluates their capacity to allow organizational systems to respond to change.

Written for public administrators and the faculty and students of public management, this book describes the importance of disorder, instability, and change and examines how new chaos theories are applied to public management. Drawing on data from the author's case studies, the book is filled with charts, graphs, and practical computer spreadsheet exercises designed to give public managers and students of public management hands-on experience to meet the challenges of organizational change.
1. A New Paradigm for Public Management
2. Chaos and the Dynamics of Change
3. Managing Risk and Uncertainty: The Limits of Incremental Change
4. Gathering Data on Workplace Change and Variation
5. Uncovering the Deep Structure in Public Organizations
6. Beyond Management Control: Learning, Continuous Improvement, and Quality
7. Using Disorder to Promote Change and Innovation
8. Leading the Self-Organizing Agency
9. Key Lessons for Public Managers on Organizational Renewal
Resource: Implementing an Activity-Based Costing System in a Government Agency