Managing Diversity in Health Care: Proven Tools and Activities for Leaders and Trainers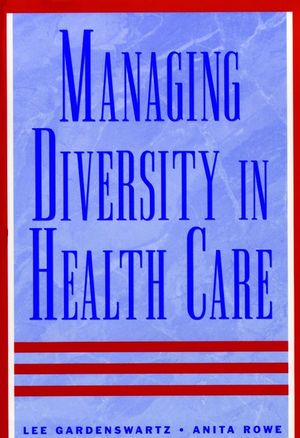 Managing Diversity in Health Care: Proven Tools and Activities for Leaders and Trainers
ISBN: 978-0-787-94041-6
May 1998, Jossey-Bass
304 pages
Description
Cultural Diversity as a Strategic Advantage

This insightful and practical work should be required reading for managers, physicians, nurses, allied health caregivers, and support staff, in order to overcome barriers to communication and change in dealing with an increasingly complex patient and employee base. I highly Andorse this excellent book written by these outstanding authors.


--Donald R. Oxley, vice president and executive director, Kaiser Permanente

As reflected in new cultural competency requirements for health care organizations, sensitivity to and understanding of cultural diversity have become mandatory for health care professionals. However, most health care professionals have little or no training on how to deal with the challenges of cultural diversity. With Managing Diversity in Health Care, you'll learn effective strategies fundamental to creating a culturally diverse health care organization.

This essential handbook provides you with the necessary knowledge and tools to become more responsive to culturally diverse patient and staff populations. The authors show how to build diverse teams, deal with the thorny issues of prejudice and bias, and communicate effectively within a diverse health care setting.
Buy Both and Save 25%!
Original Price:$140.00
Purchased together:$105.00
save $35.00
Cannot be combined with any other offers.
Introduction.

Wholeness and Well-Being: In the Eye of the Beholder.

Organization of the Contents.

How to Use this Book.

1. Why Diversity is Good for Business: Marketplace and Workforce Issues.

Demographics Changes: An Increasingly Complex Patient and Employee Base.

What These Population Shifts Mean to Health Care.

Meeting New Contractor and Managed Care Requirements.

Analyzing the Challenges and Opportunities That Diversity Brings.

2. The Dimensions of Health Care Delivery.

Personality: The Unique Core.

Internal Dimensions of Diversity: Powerful Influencers of Identity, Opportunity, and Expectations.

External Dimensions.

Organizational Dimensions.

Analyzing the Impact of Diversity Dimensions in Your Organization.

Analyzing the Impact of Your own Diversity Dimensions on You as a Health Care Professional.

Analyzing Your Own Attitudes Toward Differences.

3. The Truth About Cultural Programming.

Realities of Cultural Programming.

Dimensions of Culture that Influence Behavior.

Questioning and Expanding Your Own Assumptions.

4. Achieving Practical Cultural Literacy.

Factors that Influence Adherence to Norms.

Definition and Perception of Illness and Health.

Key Cultural Values Affecting Care.

Non-Western Treatments.

The Best of Both Worlds.

Beliefs About Illness, the Body, and Its Functioning.

Childbirth.

Death and Dying.

Family and Its Role.

Cultural Beliefs About Health, Disease, and Healers.

5. Improving Communication in Diverse Environments.

Language.

Other Aspects of Communication.

Assessing Intercultural Hooks that Block Communication.

Learning About the Cultures You Serve.

Getting Your Message Across: Directions and Feedback.

Soliciting Information.

Communicating Across Language Barriers.

Getting Help in Interpreting.

Culturally Sensitive Medical Interviews.

6. Removing Stereotypes That Block High-Quality Care.

The Realities of Stereotypes.

The Realities of Human Nature.

Managing Your Biases: Suggestions for Fighting Stereotypes.

7. The Diversity Leadership Challenge.

The Essentials of Diversity Leadership.

Leadership Fulfilled: Steps Toward Lasting Change.

8. Overcoming Barriers to Change.

Making Your Diversity Efforts Pay Off.

Organizational Barriers to Diversity.

9. Creative Organizational Problem Solving.

Demographics-driven Marketing.

Kaiser Permanente Southern California Mentoring and Coaching.

Providing Health Care to the Underserved: A Revolutionary Plan.

A Systematic Commitment to Caring for the Underserved.

Resources.

Notes.

Index.
"This insightful and practical work should be required reading for managers, physicians, nurses, allied health caregivers, and support staff, in order to overcome barriers to communication and change in dealing with an increasingly complex patient and employee base. I highly Andorse this excellent book written by these outstanding authors." (Donald R. Oxley, vice president and executive director, Kaiser Permanente)

"A superb and complete reference guide on cultural diversity. This book provides insight into why health care providers do not reach their potential in differentiating themselves in the health care marketplace. Should be read by all health care providers--a side of health care that is all too often forgotten." (James T. Yoshioka, president, MedCenters Division)

"Managing Diversity in Health Care tackles a difficult topic that can no longer be considered optional for any health care professional. The authors have done an excellent job balancing theory, facts, and statistics with an understanding of the 'cultural software' we all possess. This book forces us, as health care professionals, to question the assumptions we have about our patients and offers concrete suggestions and resources for fighting against stereotypes in our work." (Kathryn Johnson, CEO, The Healthcare Forum)