Managing For Dummies, 3rd Edition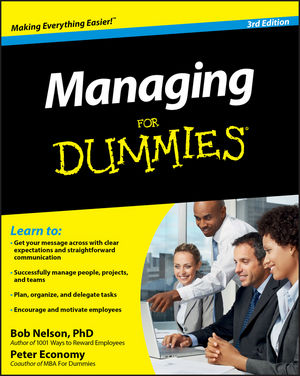 Managing For Dummies, 3rd Edition
ISBN: 978-0-470-61813-4 July 2010 384 Pages
Description
The fast and easy way to learn how to manage people, projects, and teams
Being a manager can be an intimidating and challenging task. Managing involves teaching new skills to employees, helping land a new customer, accomplishing an important assignment, increasing performance, and much more. The process of management can be very challenging at times, but it can also bring you a sense of fulfillment that you never imagined possible.
Managing For Dummies, 3rd Edition is perfect for all levels of managers. This clearly written, easy-to-understand guide gives you practical advice on the most important aspects of managing, such as delegating as opposed to ordering, improving employees' performances, getting your message across, understanding ethics and office policies, team building and collaboration, and much more.
Tips and advice for new and experienced managers
All-new chapters on employee encouragement and corporate social responsibility
Guidance on managing employees by leveraging the power of the Internet
Managing in today's lightning-speed business world requires that you have the latest information and techniques for getting the job done. Managing For Dummies, 3rd Edition provides you with straightforward advice and up-to-the-minute strategies for dealing with anything that comes your way.
Introduction.
Part I: Getting Started as a Manager.
Chapter 1: You're a Manager — Now What?
Chapter 2: Lead, Follow, or Get Out of the Way.
Chapter 3: Recognizing and Rewarding High Performance.
Chapter 4: Creating an Engaged Workforce.
Part II: Mastering Key Management Duties.
Chapter 5: Hiring: The Million-Dollar Decision.
Chapter 6: Goal Setting Made Easy.
Chapter 7: Developing Employees through Coaching and Mentoring.
Chapter 8: It's a Team Thing.
Chapter 9: Managing Virtual Employees.
Chapter 10: Monitoring Performance and Execution.
Part III: Tools and Techniques for Managing.
Chapter 11: Delegating to Get Things Done.
Chapter 12: Communicating Your Message.
Chapter 13: The Fine Art of Performance Evaluations.
Chapter 14: Budgeting, Accounting, and Other Financial Stuff.
Chapter 15: Harnessing the Power of Technology.
Chapter 16: Embracing Corporate Social Responsibility and Ethics.
Part IV: Tough Times for Tough Managers.
Chapter 17: Managing Change and Morale.
Chapter 18: Employee Discipline for Improving Performance.
Chapter 19: Terminating Employees When All Else Fails.
Part V: The Part of Tens.
Chapter 20: Ten Common Management Mistakes.
Chapter 21: Ten Tips for New Managers.
Chapter 22: Ten Tips for Maintaining Your Work–Life Balance.
Index.