Managing For Dummies, UK Edition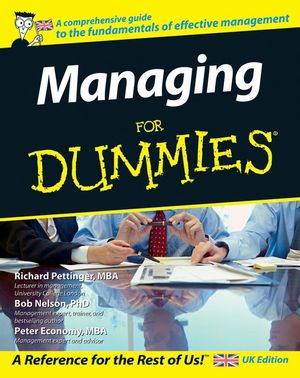 Managing For Dummies, UK Edition
ISBN: 978-1-119-99250-9 December 2010 400 Pages
Description
If you're having trouble motivating your employees, need to resolve a conflict, or want to learn how to better monitor your employees' performance, this straight-forward guide will take you step by step through every aspect of managing. Packed with expert advice on team-building, communication skills, identifying talented employees, and letting go of staff,
Managing for Dummies
takes the stress out of what can be an intimidating and high-pressured job.
The book will be adapted from the current US edition of Managing for Dummies. Existing content will be revised to reflect essential UK information including:
UK-specific case studies, including references to recognisable UK businesses
UK business practice, including ethics, employee and employers rights and responsibilities, hiring and firing - with reference to UK law
UK websites
UK financial information
Table of contents
Foreword.
Introduction.
Part I: You Want to Be a Manager.
Chapter 1: You're a Manager — Now What?
Chapter 2: Delegation: Getting Things Done - By Everyone.
Chapter 3:Leadership and Leading.
Part II: Managing People.
Chapter 4: Attracting and Keeping the Best.
Chapter 5: Motivation, Inspiration and Performance.
Chapter 6: Coaching and Development..
Part III: Making Things Happen.
Chapter 7: Setting Goals and Targets.
Chapter 8: Measuring Performance and Progress.
Chapter 9: Performance Evaluations and Appraisals.
Part IV: Working with People.
Chapter 10: Effective Communication.
Chapter 11: It's a Team Thing.
Chapter 12: Managing Flexible Workers.
Chapter 13: Ethics and Organisational Politics.
Part V: The Tough Ones.
Chapter 14: Managing Change.
Chapter 15: Discipline: Speaking Softly.
Chapter 16: Too Little, Too Late: Dismissing Employees.
Chapter 17: Managing Yourself : Taking Care of No.1.
Part VI: Tools and Techniques for Managing.
Chapter 18: Budgeting and Accounting.
Chapter 19: Harnessing the Power of Technology.
Chapter 20:Employee Development.
Chapter 21: Keeping Track of Management Trends.
Part VII: The Part of Tens.
Chapter 22: Ten Common Management Mistakes.
Chapter 23: The Ten Best Ways to Recognise Employees.
Chapter 24: Ten Classic Business and Management Books.
Index.