Managing Health Promotion: Developing Healthy Organizations and Communities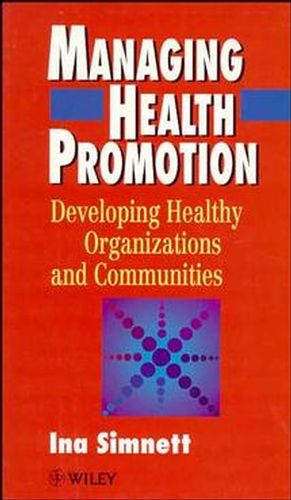 Managing Health Promotion: Developing Healthy Organizations and Communities
ISBN: 978-0-470-84243-0 November 2000 248 Pages
Description
This is a practical guide for the management of health care and health promotion. It will provide managers who are involved in this area with specific guidelines to enable them to design programs, adapt to new circumstances, and modify their approach to maintain success. Containing examples, case studies, and questions, this reference explains this increasingly relevant area of health care.
What is Health Promotion and Why Invest in It?

How You Can Get from Where You Are to Where You Want to Be.

The Stepping-Stones of Health Development.

Quality Improvement and Health Development.

Audit and the Management of Health Promotion.

Setting Goals and Objectives and Measuring Achievements of Health Promotion.

Improving Management Processes for Health Development.

Learning from Others Involved in Health Development.

Involving Local People in Health Development.

Index.