Managing High-Technology Programs and Projects, 3rd Edition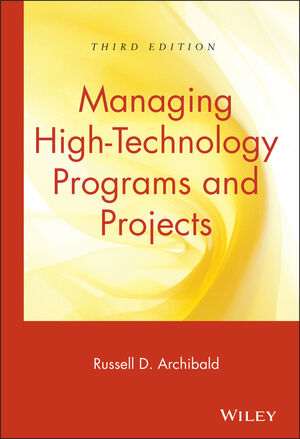 Managing High-Technology Programs and Projects, 3rd Edition
ISBN: 978-0-471-26557-3 March 2003 396 Pages
Description
A well-known author within the field: Russell Archibald is widely known in the project management field. He helped to found the Project Management Institute, and he is a former principal with Integrated Project Systems, a consulting firm that specializes in process and system implementation and training in project management for high-tech corporations and agencies.
* The definitive book on managing high-tech initiatives: This book fulfills a long-standing need for a comprehensive, practical and unified description of the business of managing complex programs and projects. It provides detailed coverage of all aspects of complex project management, with emphasis on those involving advanced technology.
PART I. EXECUTIVE GUIDE TO PROGRAM AND PROJECT MANAGEMENT.
Executive Overview of Project Management.
Programs and Projects.
Improving Project Management Capabilities.
Integrative Roles in Project Management.
Integrative and Predictive Project Planning and Control.
Project Team and Key Human Aspects of Project Management.
Organizing the Project Management Function and Office.
Managing Project Portfolios, Programs, and Multiple Projects.
PART II. MANAGING SPECIFIC PROJECTS.
Organizing the Individual Project Office and Project Team.
Planning and Initiating Projects.
Project Team Planning and Project Start-Up.
Authorizing and Controlling the Work, Schedule, and Costs.
Project Interface Management.
Evaluating, Directing, and Closing Out the Project.
Appendix: Integrated Scope, Schedule, Resource, Financial, and Risk Management for Projects.
Bibliography.
Index.