Managing Innovation: Integrating Technological, Market and Organizational Change, Enhanced eText, 6th Edition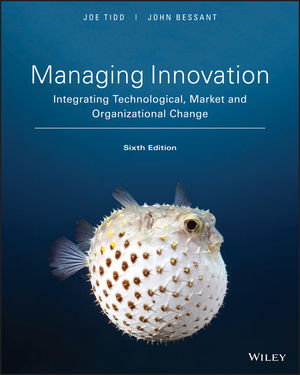 Managing Innovation: Integrating Technological, Market and Organizational Change, Enhanced eText, 6th Edition
ISBN: 978-1-119-37941-6
May 2018
608 pages
Description
Managing Innovation is the bestselling text for graduate and undergraduate students and a classic in the field. Emphasizing practical, evidence based tools and resources, this title provides students with the knowledge base to successfully manage innovation, technology, and new product development. The holistic approach addresses the interplay between the markets, technology, and the organization, while relating the unique skill set required to manage innovation and innovation processes.
The rapid pace of the field's evolution has brought an increase in multi-disciplinary approaches and skills, while expanding the available tool kit and pushing the boundaries of possibility forward. This text provides expert navigation through the abundance of new data, new methods, new concepts, and approaches — but it is designed to encourage and support tailored experimentation, not replace it. Equipped with a strong foundation and a productive innovation management mindset, today's students will be equipped to bring about the era's next great advances.
Chapter 1: Innovation – What It Is and Why It Matters
1.1: The importance of innovation
1.2: Innovation is not just high technology
1.3: It's not just products
1.4: Innovation and entrepreneurship
1.5: Strategic advantage through innovation
1.6: Old question, new context
1.7: What is innovation?
1.8: A process view of innovation
1.9: Innovation Scopes and Types
Four dimensions of innovation space
Mapping Innovation Space
1.10: Key Aspects of Innovation
Incremental innovation – doing what we do but better
Platform innovation
Discontinuous innovation – what happens when the game changes?
Component/architecture innovation and the importance of knowledge
The innovation life cycle – different emphasis over time
1.11: Innovation Management
Summary
Further reading
Case studies
Chapter 2: Innovation as a Core Business Process
2.1: Different Circumstances, Similar Management
2.2: Services and innovation
Servitization
Service innovation emphasizes the demand side
2.3: Variations on a theme
The extended enterprise
Innovation in the not-for-profit arena
Social entrepreneurship
Organizational size matters
Project-based organizations
Platform innovation
Networks and systems
Variations in national, regional, local context
Do better/do different
2.4: A contingency model of the innovation process
2.5: Evolving models of the process
2.6: Can we manage innovation?
Building and developing routines across the core process
Navigating the negative side of routines
2.7: Learning to manage innovation
Identifying simple archetypes
Measuring innovation success
2.8: What Do We Know About Successful Innovation Management?
Success routines in innovation management
Search
Selection
Implementation
Key contextual influences
2.9: Beyond the Steady State
Summary
Further reading
Case studies
Chapter 3: Building the Innovative Organization
3.1 Shared vision, leadership and the will to innovate
3.2 Appropriate organizational structure
3.3 Key individuals
3.4 High involvement in innovation
3.5 A roadmap for the journey
3.6 Effective team working
3.7 Creative Climate
Creating Innovation Energy
Attitude
Behaviours
Structures: Organizational support for innovation
The Innovation Energy sweet spot
Climate versus culture
Trust and openness
Challenge and involvement
Support and space for ideas
Conflict and debate
Risk taking
Freedom
3.8 Boundary-spanning
Summary
Further Reading
Case Study
Chapter 4: Developing an Innovation Strategy
4.1 'Rationalist' or 'incrementalist' strategies for innovation?
Rationalist strategy
Incrementalist strategy
Implications for management
4.2 Innovation 'leadership' versus 'followership'
4.3 The dynamic capabilities of firms
Institutions: finance, management and corporate governance
Learning and imitating
4.4 Appropriating the benefits from innovation
4.5 Exploiting Technological trajectories
4.6 Developing firm-specific competencies
Hamel and Prahalad on competencies
Assessment of the core competencies approach
Developing and sustaining competencies
4.7 Globalization of innovation
4.8 Enabling strategy making
Routines to help strategic analysis
Portfolio management approaches
Summary
Further Resources
Chapter 5: Sources of Innovation
5.1: Where do innovations come from?
5.2: Knowledge push
5.3: Need pull
5.4: Making processes better
5.5: Crisis-driven innovation
5.6: Whose needs? The challenge of under-served markets
5.7: Emerging markets
5.8: Towards mass customisation
5.9: Users as innovators
5.10: Using the crowd
5.11: Extreme users
5.12: Prototyping
5.13: Watching others – and learning from them
5.14: Recombinant innovation
5.15: Design-led innovation
5.16: Regulation
5.17: Futures and forecasting
5.18: Accidents
Summary
Further reading
Case studies
Chapter 6: Search Strategies for Innovation
6.1: The innovation opportunity
Push or pull innovation?
Incremental or radical innovation?
Exploit or explore?
6.2: When to search
6.3: Who is involved in search
6.4: Where to search – the innovation treasure hunt
Ambidexterity in search
Framing innovation search space
6.5: A map of innovation search space
Zone 1
Zone 2
Zone 3
Zone 4
6.6: How to search
6.7: Absorptive capacity
6.8: Tools and mechanisms to enable search
Managing internal knowledge connections
Extending external connections
Sending out scouts
Exploring multiple futures
Keeping an eye on innovation markets
Working with active users
'Deep diving'
Probing and learning
Corporate venturing
Using brokers and bridges
Summary
Further reading
Case studies
Chapter 7: Innovation networks
7.1: The 'spaghetti' model of innovation
7.2: Innovation networks
Why networks?
Emergent properties in networks
Learning networks
Breakthrough technology collaborations
Regional networks and collective efficiency
7.3: Networks at the start-up
7.4: Networks on the inside
7.5: Networks on the outside
7.6: Networks into the unknown
7.7: Managing innovation networks
Configuring innovation networks
Facing the challenges of innovation networks
Summary
Further reading
Case studies
Chapter 8: Decision Making under Uncertainty
8.1: Meeting the challenge of uncertainty
8.2: The funnel of uncertainty
8.3: Decision making for incremental innovation
8.4: Building the business case
Probe-and-learn approaches to concept development
8.5: Concept testing and engaging stakeholders
8.6: Spreading the risk - building a portfolio
8.7: Decision making at the edge
Not invented here and the 'corporate immune system'
8.8: Mapping the selection space
Building alternative futures
Summary
Further reading
Case studies
Chapter 9: Making the Innovation Case
9.1 Developing the business plan
9.2 Forecasting innovation
Customer or market surveys
Internal analysis, e.g. brainstorming
External assessment, e.g. Delphi
Scenario development
9.3 Estimating the adoption of innovations
Processes of diffusion
Factors influencing adoption
Characteristics of an innovation
Relative advantage
Compatibility
Complexity
Trialability
Observability
9.4 Assessing risk, recognizing uncertainty
Risk as probability
Perceptions of risk
9.5 Anticipating the resources
Financial assessment of projects
How to evaluate learning?
How practising managers cope
Summary
Further Reading
Case Studies
Chapter 10: Creating New Products and Services
10.1 Processes for new product development
Concept generation
Project selection
Product development
Product commercialization and review
Lean and agile product development
Lean start-up
(a) Build-measure-learn
(b) Minimum viable product (MVP)
(c) Validated learning
(d) Innovation accounting
(e) Pivoting
(f) Single unit flow
(g) Line stop/ Andon cord
(h) Continuous improvement
(i) Kanban
(j) Five whys
10.2 Factors influencing product success or failure
Commitment of senior management
Clear and stable vision
Improvisation
Information exchange
Collaboration under pressure
10.3 Influence of technology and markets on commercialization
10.4 Differentiating products
10.5 Building architectural products
Segmenting consumer markets
Segmenting business markets
10.6 Commercializing technological products
10.7 Implementing complex products
The nature of complex products
Links between developers and users
Adoption of complex products
10.8 Service innovation
Summary
Further Reading
Case Studies
Chapter 11: Exploiting Open Innovation and Collaboration
11.1 Joint ventures and alliances
11.2 Forms of collaboration
11.3 Patterns of collaboration
11.4 Influence of technology and organization
Competitive significance
Complexity of the technology
Codifiability of the technology
Credibility potential
Corporate strategy
Firm competencies
Company culture
Management comfort
Managing alliances for learning
11.5 Collaborating with suppliers to innovate
11.6 User-led innovation
11.7 Extreme users
11.8 Benefits and limits of open innovation
Summary
Further Reading
Case Studies
Chapter 12: Promoting Entrepreneurship and New Ventures
12.1 Ventures, defined
Profile of a venture champion
Venture business plan
Funding
Crowd-funding
Corporate venture funding
Venture capital
12.2 Internal corporate venturing
To grow the business
To exploit underutilized resources in new ways
To introduce pressure on internal suppliers
To divest non-core activities
To satisfy managers' ambitions
To spread the risk and cost of product development
To combat cyclical demands of mainstream activities
To learn about the process of venturing
To diversify the business
To develop new competencies
12.3 Managing corporate ventures
12.4 Assessing new ventures
Structures for corporate ventures
Direct integration
Integrated business teams
New ventures department
New venture division
Special business units
Independent business units
Nurtured divestment
Complete spin-off
Learning through internal ventures
12.5 Spin-outs and new ventures
12.6 University incubators
Summary
Further Reading
Case Studies
Chapter 13: Capturing the Business Value of Innovation
13.1 Creating value through innovation
13.2 Innovation and firm performance
13.3 Exploiting knowledge and intellectual property
Generating and acquiring knowledge
Identifying and codifying knowledge
Storing and retrieving knowledge
13.4 Sharing and distributing knowledge
13.5 Exploiting intellectual property
Patents
Copyright
Design rights
Licensing IPR
13.6 Business models and value capture
13.7 Dynamics of generative interaction
Summary
Further Resources
Chapter 14: Capturing Social Value
14.1: Building BRICs – the rise of new players on the innovation stage
14.2: Innovation and social change
14.3: The challenge of sustainability-led innovation
14.4: A framework model for sustainability-led innovation
14.5: Responsible innovation
Summary
Further reading
Case studies
Chapter 15: Capturing Learning from Innovation
15.1: What we have learned about managing innovation
15.2: How to build dynamic capability
15.3: How to manage innovation
15.4: The importance of failure
15.5: Tools to help capture learning
Post project reviews (PPRs)
Benchmarking
Capability maturity models
Agile innovation methods
15.6: Innovation auditing
15.7: Measuring innovation performance
15.8: Measuring innovation management capability
15.9: Reflections
Search
Select
Implement
Proactive links
Learning
15.10: Developing innovation capability
15.11: Final thoughts
Further reading
Case studies
New to this Edition:
Fully updated coverage of the latest research and practice in the field
Expanded coverage of business model innovation, open innovation, user innovation, and crowd-sourcing, service, and social innovation
Wiley Advantage:
"Research Notes" support a strong empirical approach to the understanding and practice of innovation management
"Views from the Front Line" connect the experiences and challenges of real-world managers to the concepts discussed in the text
Emphasizes application over theory, providing practical, tested processes, models, and tools
Multimedia supplements including video and podcast material provide additional perspective
Interactive innovation tools and exercises reinforce critical concepts