Managing Innovation and Entrepreneurship in Technology-Based Firms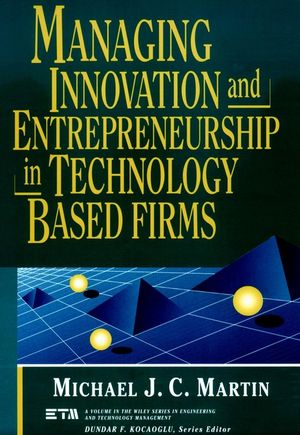 Managing Innovation and Entrepreneurship in Technology-Based Firms
ISBN: 978-0-471-57219-0 September 1994 416 Pages
Description
Describes principles and methodologies necessary to build efficient and highly productive work systems in high tech organizations that must develop and deploy new products in a timely fashion with competitive advantage. Presents techniques applicable to small high tech consumer products or large complex systems requiring cost control, waste minimization and rapid product development. Stresses methodologies to be used for strategic advantage. Suggests diverse strategic plans and their pros and cons, depending on the product and markets.
Table of contents
Partial table of contents:

THE TECHNOLOGICAL INNOVATION PROCESS.

Some Frameworks for Viewing the Process.

THE CORPORATE SETTING.

The Corporate Technological Innovation Base.

Technological Innovation Management: Planning and Strategies.

THE R&D SETTING.

R&D Management: Some General Considerations.

Project-Product Evaluation.

Project Management.

THE OPERATIONAL SETTING.

Transferring the Project from R&D to Operations.

THE ENTREPRENEURIAL SETTING.

Creating the New Technological Venture.

Small in Large Is Also Beautiful: StimulatingIntrapreneurship.

THE STRATEGIC SETTING.

Interpreneurship: Technology Acquisition and Partnering.

Index.