Managing International Political Risk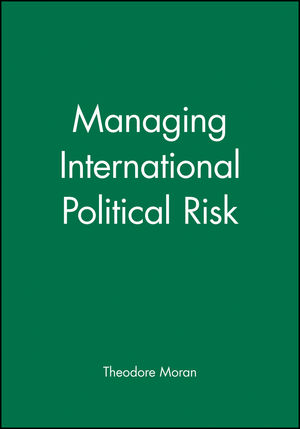 Managing International Political Risk
ISBN: 978-0-631-20880-8 October 1998 Wiley-Blackwell 202 Pages
Description
Managing International Political Risk analyzes the changing nature of threats to international investment in the "BEM's"- Big Emerging Markets- such as China, Brazil, Russia, Pakistan, India, Venezuela, Vietnam, and the Philippines. The book examines the strategies developed by investors and lenders to deal with political risk in large oil, mining, and private infrastructure projects.

The book provides essential reading for international business and corporate finance classes in business schools and economics departments. It offers valuable insights and practical advice for international corporations, banks, investment funds, and insurers as they search fr methods to manage political risk in the contemporary period.

Corporate strategies from Chevron, Exxon, Llotd's of London, Citicorp, and Standard & Poor's, among others, examine the tools, techniques, and stratgeies adopted by firms and financial institutions to offset or deter political risk. Together with leading academics, they assess the costs and benefits of project finance, non-recourse lending, alternative syndication structures, securization of export receivables, bullet bonds, local financial participation, offshore escrow accounts, multilateral guarentees, and public and private political risk insurance. They navigate the cutting edge of new "deal structures" including credit derivatives, default swars, credit- linked notes, total return swaps, and two-way trades of " bite-sized" risk units.
Introduction:
.
The Growing Role of Foreign Direct Investment in the Developing Countries and the Economies-in-Transition.
Win-Win Benefits for Home Countries.
Obstacles to Foreign Direct Investemtn.
Part I: The Changing Nature of Political Risk: .
Overview:.
Old and New Sources of Political Risk.
The Quantification of Political Risk Assessment.
A Persistent Vulnerability to the Obsolescing Bargain.
The Inadequacy of Conventional Investor Responses to the "Obsolescing Bargain".
Questions and Concerns for the Future.
1. God and Fair Competition: Does the Foreign Direct Investor Face Still Other Risks in Emerging Markets?: Louis T. Wells, Jr. (Harvard University).
2. Trends in Political Risk for Corporate Investors: Sandy Markwick (Control Risks Group).
3. Political Risk: A Realistic View Toward Assessment, Quantification and Mitigation: William T. Irwin (Amoseas Indonesia/ Chevron).
Part II: Lessons in the Management of International Political Risk from the Natural Resource and Private Infrastructure Sectors: .
Overview:.
Project Finance and Political Risk.
Project Finance, Political Risk and the "Umbrella" of Multilateral Lending Institutions.
The International Finance Corporation (IFC) and the "Umbrella" of Protection. Against Political Risk.
Limitations to the Expanded Use of Multilateral Guarantee Programs.
Risk/Return Management in Infrastructure Projects in Emerging Markets.
Enhanced Credit-Rating from Securitization of Export Receivables and Rights to Future Financial Flows.
The Pros and Cons of Choosing Project Finance Over Equity. The Cutting Edge of New "Deal Structures".
Questions and Concerns for the Future.
4. Lessons in the Management of Political Risk: Infrastructure Projects: Robert B. Shanks (Morrison & Foerster LLP).
5. Progress in Privatizing Infrastructure in Emerging Markets: Timothy J. Faber (GE Capital).
6. Rating Debt Issues Secured by Offshore Receivables: Patrice M. Jordan (Standard & Poor's).
7. Challenges in the Financing of International Oil Operations: Andrea L. Macdonald (Exxon Exploration Company).
8. New Forms of Protection for International Power Investors: Linda F. Powers (Enron International).
Part III: Political Risk Insurance as a Tool to Manage International Political Risk:.
Overview: .
Complementary Roles for Public and Private Sector Insurers.
A Growing Role for Multilateral Investment Guarantees and Political Risk Insurance.
New Forms of Cooperation Between Public and Private Sector Insurers.
The Use of Political Risk Insurance by Banks and Other International Lenders.
Political Risk and Political Risk Insurance in the Future.
Questions and Concerns for the Future.
9. A Perspective on Political Risk Insurance: Malcolm Stephens CF (Berne International Union).
10. The Future of Private Political Risk Insurance: John J. Salinger (American International Group).
11. Political Risk Insurance, International Banks and Other International Lenders: Robert H. Malleck (Citicorp Securities, Inc.).
12. The Challenges of Aggregation, Bad Faith/Bad Credit and Public/Private Sector Cooperation: Charles Berry (Berry, Palmer & Lyle Ltd).
Index.
"This book analyzes the 'new' political risks throughly and intelligently and fills a large gap in hte literature."
Stephen J. Kobrin, Director, Louder Institute, Wharton
"A practical guide to assessing, mititgating, and transferring political risks showing how novel deal structures and innovative use of financial markets can take the place of explicit guarantees." Donald Lessard, Sloan School of Management
"'Must' reading for anyone involved in international investment as corporate executive, as a government policymaker, or as a student." Geza Feketekuty, Director, Center for Trade and Commercial Diplomacy, Monterey Institute
* Offers unique, contemporary coverage of political risk in business.
* Contains strategies from practitioners in key corporations on how to offset political risk in business.
* Includes evidence and case studies from the Big Emerging Markets.
* Examines the cutting-edge of new "deal structures", which include credit derivatives, default swaps, credit-linked notes, total return swaps and two-way trades of "bite-sized" risk units.