Managing Pain in Children: A Clinical Guide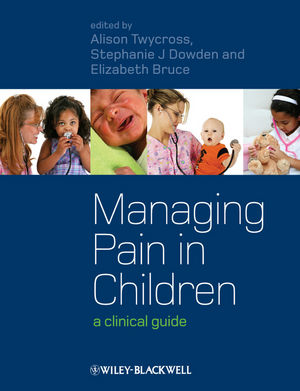 Managing Pain in Children: A Clinical Guide
ISBN: 978-1-444-32275-0 November 2009 Wiley-Blackwell 256 Pages
Description
All children have a right to appropriate prevention, assessment and control of their pain. Managing Pain in Children is an evidence-based, practical guide to care in all areas of children's pain management, providing nurses and other health care practitioners with the skills and expertise necessary to manage children's pain effectively.

The text first explores the relevant anatomy and physiology of children, the latest policy guidelines surrounding pain management and ethical issues involved in managing children's pain. It then goes on to look at the various pain assessment tools available for children and non-drug methods of pain relief. The text then goes on to apply these pain management principles to practice in relation to acute pain, chronic pain, palliative care and the management of procedural pain. Each of these chapters covers the evidence base, assessment techniques, pain relieving interventions, and guidance for best practice in both hospital and community settings.

Special features:
Practical and accessible, with 'best practice' points in each chapter
Written in the context of latest policy developments
Provides the necessary evidence-base for care throughout
With contributions from experts in the field
1 Why Managing Pain in Children Matters
2 Anatomy and Physiology of Pain
3 Pain: A Bio-Psycho-Social Phenomenon
4 Pharmacology of Analgesic Drugs
5 Non-Drug Methods of Pain Relief
6 Pain Assessment
7 Managing Acute Pain in Children
8 Chronic Pain in Children
9 Palliative Care in Children
10 Management of Painful Procedures
11 Where To From Here?
" The evidence-based, practical approach makes this guide a useful reference for both novice and experienced health care professionals. . .the compilation and summarization of the pediatric pain literature also make it valuable for educators and researchers in the field. The layout of the book is consistent between chapters, using an easy to read format with headings and bullets." (Pediatric Pain Letter, 1 April 2010)
Practical and accessible, with 'best practice' points in each chapter


Written in the context of latest policy developments

Provides the necessary evidence-base for care throughout

With contributions from experts in the field