Managing Patient Expectations: The Art of Finding and Keeping Loyal Patients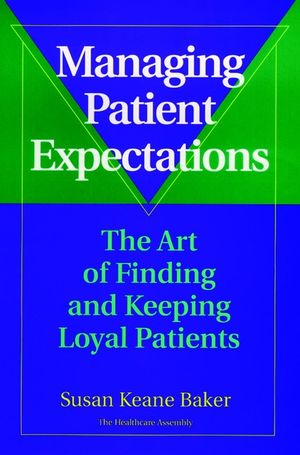 Managing Patient Expectations: The Art of Finding and Keeping Loyal Patients
ISBN: 978-0-787-94158-1
Aug 1998, Jossey-Bass
304 pages
Description
Strategies for Building Satisfying Patient Relationships

New England Healthcare Assembly

This book fills a huge void in the areas of medical education and the delivery of patient service. The clear advice about how to identify and respond to patient needs and preferences is essential reading for physicians and those who work with them. If the personal rewards of medicine are important to you, read this book.


--Joseph A. Lieberman, III, chairman, department of family and community medicine, clinical professor of family medicine, Thomas Jefferson University

This important resource describes how to develop the qualities of understanding, empathy, and compassion that help to meet and exceed patient expectations. Managing Patient Expectations is filled with realistic and cost-effective strategies for maintaining patient satisfaction, creating loyalty, and increasing referrals. Susan Keane Baker explains how to find out what patients really think and how physicians can best respond in a variety of situations. Co-published with the Healthcare Assembly Press.
CREATING EXPECTATION.

Prior Expectations.

Word of Mouth.

Advertising, Media, and Managed Care.

First Impressions.

IDENTIFYING EXPECTATIONS.

Listening Skills.

Patient Feedback.

MANAGING PATIENT EXPECTATIONS.

Moments of Truth.

Staff Strategies.

Informed Consent.

Patient Education.

Best Practices.

RESPONDING TO UNMET EXPECTATIONS.

Complaints.

Patient Follow Through.

Adverse Patient Outcomes.

When Patients Leave.

EXCEEDING EXPECTATIONS.

Respecting Patient Preferences.

Building Loyal Relationships.
"Winning teams depAnd on the loyalty and enthusiasm of every member. Here, in one place, is all you need to know about creating that same kind of loyalty and enthusiasm in your patients and staff." (Lou Holtz, former head football coach, University of Notre Dame)

"Malpractice claims are often the result of unmet and sometimes unrealistic patient expectations? with an overlay of miscommunication. Baker's book gives practical advice that easily translates into loss prevention lessons." (Peggy Berry Martin, director of education, Harvard Risk Management Foundation)

"This book fills a huge void in the areas of medical education and the delivery of patient service. The clear advice about how to identify and respond to patient needs and preferences is essential reading for physicians and those who work with them. If the personal rewards of medicine are important to you, read this book." (Joseph A. Lieberman, III, M.D., M.P.H., chairman, department of family and community medicine, clinical professor of family medicine, Thomas Jefferson University)