Managing Projects With Microsoft Project 2000: For Windows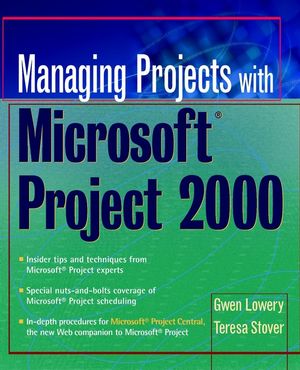 Managing Projects With Microsoft Project 2000: For Windows
ISBN: 978-0-471-43779-6
Mar 2002
480 pages
Description
Learn proven project management strategies as you master the world's #1 project management software
Here's a winning combination: a series of successful project management strategies that cover every phase of the process AND an insider's guide to the most powerful and versatile project management software available anywhere. That's what you'll find in Managing Projects with Microsoft Project 2000.
A synchronized learning system helps you get with the program
Microsoft Project 2000 brings 21st-century power to this already formidable tool. Whether you're an experienced user preparing to upgrade to Microsoft Project 2000 or an aspiring project manager who needs to understand the big picture as you gain control of the details, this remarkable one-stop guide helps you make the most of this outstanding new program. It puts you in control of every new feature and enhanced capability, including how to:
SCHEDULE TASKS AND TRACK PROGRESS using task calendars, deadline dates, estimated durations, baseline and interim plans, and more
MANAGE RESOURCES FOR BETTER TASK SCHEDULING with new methods that let you vary resource availability, specify material resources, and set task priorities for resource leveling
MODEL PROJECTS GRAPHICALLY WITH NETWORK DIAGRAM VIEW, which offers flexible viewing and formatting of program information in a graphical layout of tasks
MANAGE TASKS AND RESOURCES ACROSS A WORKGROUP with Microsoft Project Central-a Web-based companion to Microsoft Project 2000 that allows for task delegation up and down organizational lines, task progress reporting, and narrative status reporting
WORK FASTER AND SMARTER by jump-starting new products with templates, grouping tasks and resources, creating your own work breakdown structure numbering scheme-and much, much more
Introducing Microsoft Project 2000.

YOUR PROJECT TAKES SHAPE.

The Elements of Project Management.

How Microsoft Project Helps You Manage Projects.

Starting a Project.

CREATING AND REFINING YOUR PROJECT.

Entering and Structuring Your Tasks.

Making Tasks Happen at the Right Time.

Assigning Resources to Tasks.

Specifying Resource and Task Costs.

Fine-Tuning Your Project.

TRACKING AND UPDATING YOUR PROJECT.

Keeping Your Project on Track.

Updating Task Information Using E-Mail.

Updating Task Information Using the Web.

REVIEWING PROJECT INFORMATION.

Viewing Your Information.

Making Your Project Look How You Want.

Printing and Publishing Basics.

Printing Views.

Printing Reports.

USING OTHER PROJECTS AND PROGRAMS.

Managing Several Projects at Once.

Sharing Project Information with Other Programs.

CUSTOMIZING MICROSOFT PROJECT TOOLS.

Customizing Microsoft Project.

Glossary.

Index.