Managing Risk: In Construction Projects, 2nd Edition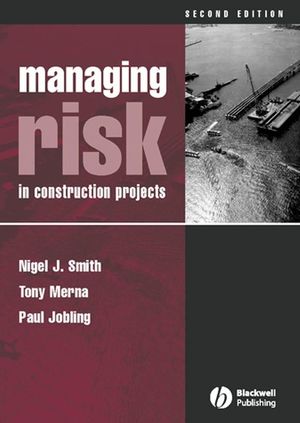 Managing Risk: In Construction Projects, 2nd Edition
ISBN: 978-1-405-17274-5 February 2009 Wiley-Blackwell 256 Pages
Description
Written by a group of academics and practitioners, this guide is for construction practitioners having to manage real projects. It shows how the risk management process improves decision making in conditions of uncertainty.
This new edition includes the input of the Turnbull report, as well as to introduce the concept of corporate, strategic business, and project level risk.
The authors cover:
a description of risk management and decision making in the context of a construction project
the human dimension
tools and techniques available to the risk analyst
the problems of procurement and finance
the practical application of risk analysis, including the principles of risk modelling and simulation, together wit case studies
A thorough understanding of these concepts will provide the project manager with the basis for effective decision making.
From the reviews of the first edition:
"This book should be compulsory reading for all concerned with the management of risk in construction – whether academics or practitioners."
—Chartered Surveyor Monthly
"A valuable addition to the literature ... which helps condense, simplify and provide practical advice on how to implement risk management on construction projects."
Table of contents
1. PROJECTS AND RISK.
1.1 Engineering Projects.
1.2 Decision Making.
1.3 Risk Management Strategy.
1.4 Project Planning.
1.5 Summary.
2. THE PROJECT ENVIRONMENT.
2.1 Projects.
2.2 The Project Constitution.
2.3 Project Organisation.
2.4 Project Phases.
2.5 Effects of Project Phase on Risk.
2.6 Project Appraisal.
2.7 Summary.
3. UNDERSTANDING THE HUMAN ASPECTS.
3.1 Risk Management – People.
3.2 Risk Management – Organisations.
3.3 The Risk Management Process.
3.4 Some Guidelines to the Risk Management Process.
3.5 Preparing a Group for a Risk Session – Risk Identification.
3.6 Communication.
3.7 Summary.
4. RISK AND VALUE MANAGEMENT.
4.1 Introduction.
4.2 The Standard Risk Management Model.
4.3 Apply Risk and Value Management.
4.4 Value Management Processes.
4.5 Understanding the Project Risk.
4.6 Applying Value and Risk Management.
4.7 Iteration of the Process.
4.8 Summary.
5. QUALITATIVE METHODS AND SOFT SYSTEMS METHODOLOGY.
5.1 Qualitative Risk Assessment.
5.2 Review of Project Programmes and Budgets.
5.3 The Risk Log.
5.4 Using a Risk Log to Formulate Risk Management Strategy.
5.5 Qualitative Methodologies.
5.6 Soft Systems Methodology.
5.7 Case Study.
5.8 Summary.
6. QUANTITATIVE METHODS FOR RISK MANAGEMENT.
6.1 Sanction.
6.2 Project Appraisal and Selection.
6.3 Project Evaluation.
6.4 Engineering Risks.
6.5 Risk Management.
6.6 Probabilistic Analysis.
6.7 Response to Risks.
6.8 Successful Risk Management.
Annex.
Reviews
"An excellent book for practitioners, academics and students with an interest in construction risk, it is a must-have for everyone involved in the construction projects for the 2012 Olympics." (Building Engineer, April 2006)
Features


offers sound practical guidance on identifying, assessing and managing risk

helpful blend of theory and practice

lively use of case study material

new edition covers PFL and PPP; risk registers; corporate risk; and uncertainty management