Managing Risk in Nonprofit Organizations: A Comprehensive Guide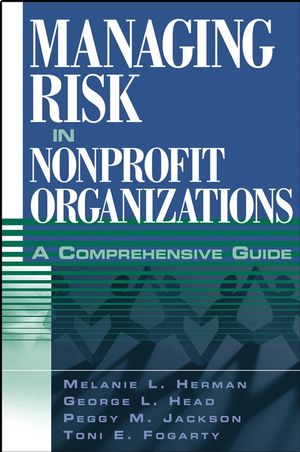 Managing Risk in Nonprofit Organizations: A Comprehensive Guide
ISBN: 978-0-471-46926-1
Apr 2004
336 pages
Description
Managing Risk in Nonprofit Organizations explains and defines risk management, especially as it applies to nonprofits. It provides comprehensive guidance on such topics as identifying risk, prioritising risk, selecting appropriate risk management techniques, implementing risk management techniques, monitoring risk management, and financing.
* Includes diagrams of the risk management cycle and dimensions of risk graphic
* The nature of these unique risks and the special challenges facing a nonprofit that embarks on a risk management program will also be addressed.
* Written by two leaders at the Nonprofit Risk Management Center, a management assistance organization that provides informational resources, technical assistance, and training to an estimated 20,000 nonprofits annually
PART I: MANAGING RISK IN THE NONPROFIT SECTOR.
Chapter 1: The Nature and Purposes of Risk Management.
Chapter 2: Recognizing the Context for Risk Management.
PART II: UNDERSTANDING THE GENERAL RISKS FACING NONPROFIT ORGANIZATIONS.
Chapter 3: Property Risks.
Chapter 4: Income Risks.
Chapter 5: Liability Risks.
Chapter 6: People Risks.
Chapter 7: Reputation and Mission Risks.
Chapter 8: Managing Volunteer Risks.
Chapter 9: Governance and Fiduciary Risks.
Chapter 10: Managing Risks Related to Serving Vulnerable Populations.
Chapter 11: Managing the Risks of Transporting Clients.
Chapter 12: Managing Collaboration Risk.
PART III: RISK FINANCING FOR NONPROFITS.
Chapter 13: Fundamental Objectives and Alternatives for Risk Financing.
Chapter 14: Working with Insurance Professionals.
Chapter 15: Insurance.
Epilogue: A Risk Management Decalogue.
Glossary.
Bibliography.
Resource Organizations.
Index.
"…looks at many aspects of the subject in great detail…. The approach is a practical one…" (Oxfam's Development Resources Review, April 2004)
Includes diagrams of the risk management cycle and dimensions of risk graphic.
The nature of these unique risks and the special challenges facing a nonprofit that embarks on a risk management program will also be addressed.
Written by leaders at the Nonprofit Risk Management Center, a management assistance organization that provides informational resources, technical assistance, and training to an estimated 20,000 nonprofits annually.