Managing Six Sigma: A Practical Guide to Understanding, Assessing, and Implementing the Strategy That Yields Bottom-Line Success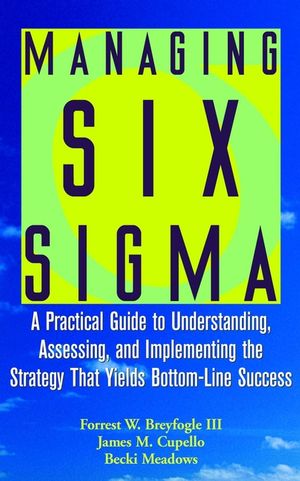 Managing Six Sigma: A Practical Guide to Understanding, Assessing, and Implementing the Strategy That Yields Bottom-Line Success
ISBN: 978-0-471-39673-4
Oct 2000
288 pages
Product not available for purchase
Description
Advance Praise for Managing Six Sigma "This book is a unique blend of practical knowledge and cultural change, revolution and evolution strategies. I recommend that serious managers buy the book, spend some serious time reading, and then go out and use its lessons to make a name for themselves."-William Baker, Benchmarking/Knowledge Transfer Office, Raytheon Corporation "I believe Managing Six Sigma will be the new reference standard for the quality movement in coming years."-Robert T. Hunter, Executive Vice President, Rehnborg Center for Nutrition and Wellness

"[The authors'] step-by-step process for integrating the tools of Six Sigma takes the mystery out of this methodology and, by itself, makes this book worth having."-Dennis Adsit, PhD, Vice President, Quality, Intuit

"Breyfogle's Six Sigma deployment methodology is explained in detail for four different business processes: manufacturing, service, transactional, and development. . . . His 21-step plan for each business process is explained in a way that allows any type of company to perform a successful implementation."-Mark Feller, Director of Quality, Baker Electronics

"Breyfogle teaches not only the wider application but also the deeper implications and in-depth implementation of Six Sigma deployment in organizations large and small."-Ram Josyula, President, gelrad.com

Managing Six Sigma is the only book that provides both detailed coverage of Six Sigma techniques and effective methods for managing those who implement Six Sigma. With real-world case studies recounting the triumphs and pitfalls encountered during successful implementations at Motorola and General Electric-plus plans, checklists, and metrics to speed up the implementation process-this rich resource helps managers solve problems effectively and ensure a fast, smooth, and successful Six Sigma implementation.
Buy Both and Save 25%!
Original Price:$220.00
Purchased together:$165.00
save $55.00
Cannot be combined with any other offers.
Buy Both and Save 25%!
Original Price:$260.00
Purchased together:$195.00
save $65.00
Cannot be combined with any other offers.
Buy Both and Save 25%!
Original Price:$143.00
Purchased together:$107.25
save $35.75
Cannot be combined with any other offers.
How Six Sigma Compares to Other Quality Systems/
Six Sigma Background and Fundamentals/
Six Sigma Needs Assessment/ Numbers and Information/
Crafting Insightful Metrics/
Performance Measurement/
Deployment Alternatives/
Creating a Successful Six Sigma Infrastructure/
Training and Implementation/
Effective Project Selection, Sizing and Other Techniques/
Manufacturing Applications/
Service/
Transactional Applications.

Development Applications.

Need for Creativity, Invention and Innovation.

List of Symbols.

Glossary.

Advance Praise for Managing Six Sigma "This book is a unique blend of practical knowledge and cultural change, revolution and evolution strategies. I recommend that serious managers buy the book, spend some serious time reading, and then go out and use its lessons to make a name for themselves."-William Baker, Benchmarking/Knowledge Transfer Office, Raytheon Corporation

"I believe Managing Six Sigma will be the new reference standard for the quality movement in coming years."-Robert T.
Hunter, Executive Vice President, Rehnborg Center for Nutrition and Wellness

"[The authors'] step-by-step process for integrating the tools of Six Sigma takes the mystery out of this methodology and, by itself, makes this book worth having."-Dennis Adsit, PhD, Vice President, Quality, Intuit

"Breyfogle's Six Sigma deployment methodology is explained in detail for four different business processes: manufacturing, service, transactional, and development. . . . His 21-step plan for each business process is explained in a way that allows any type of company to perform a successful implementation."-Mark Feller, Director of Quality, Baker Electronics

"Breyfogle teaches not only the wider application but also the deeper implications and in-depth implementation of Six Sigma deployment in organizations large and small."-Ram Josyula, President, gelrad.com