Managing Strategy Implementation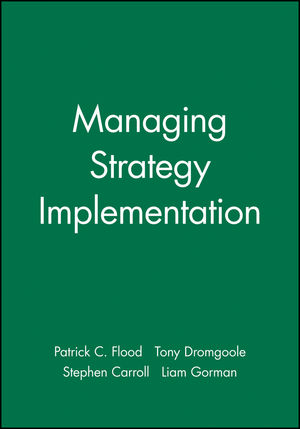 Managing Strategy Implementation
ISBN: 978-0-631-21766-4 April 2000 Wiley-Blackwell 276 Pages
Description
Strategy according to Percy Barnevik, Chairman of ABB is 10 per cent vision and 90 per cent execution. Yet standard textbooks of strategic management are decidedly light in terms of their treatment of the organisational issues which frequently derail change initiatives. This text on the implementation of strategy redresses the balance.
Preface.
Foreword.
Acknowledgements.
Introduction: Stephen Carroll and Patrick Flood.
Part I: New Perspectives on the Strategy Implementation Process:.
1. Strategic Management in a World Turned Upside Down: the Role of Cognition, Intuition and Emotional Intelligence: Paul Sparrow.
2. Implementing Strategic Plans through Formalized Goal Setting: Stephen Carroll.
3. Analysing Strategic Activity through Narrative Analysis: Sarah Moore.
4. Strategy Implementation and Polarity Management: Tony Dromgoole and David Mullins.
Part II: Behavioural Barriers and Problems in Strategy Implementation: .
5. The Emotional World of Strategy Implementation: David O'Donnell.
6. Change Mangement and Stress: Carol Borrill and Sharon Parker.
7. Strategy Implementation in Public Sector Organizations: David McKevitt.
8. Leading and Managing the uncertainty of Strategic Change: Jean Hartley.
Part III: Key Roles in Strategy Implementation: .
9. From Key Advice to Execution: Consulting Firms and the Implementation of Strategic Decisions: Timothy Morris. .
10. The Leadership of Learning: the Core Process of Strategy Implementation: Dennis Gillen.
11. Middle Management Resistance to Strategic Change Initiatives: Saboteurs or Scapegoats?: Mark Fenton-O'Creevy.
12. Constraints on Strategy Implementation: the 'Problem' of Middle Managers: Philip Stiles.
Part IV: Barriers and Enablers to Strategy Implementation: .
13. The Primacy of Imagination: Charles Carroll.
14. Developing and Implementing Strategy through Learning Networks: Tony Dromgoole and Liam Gorman.
15. Implementing Turnaround Strategies in Strongly Unionized Environments: Niall Saul.
16. Teams in Strategy Implementation: Some Case Examples: Ken Smith and Henry Sims Jr.
Editor's Conclusion.
Bibliographical Notes.
Index.
"As managers have increasingly come to recognize, implementation is the key to superior business performance. Yet, most books on strategy continue to focus on the 'what to', while glossing over the 'how to'. This book admirably fills the gap. Both managers and management academics will find Managing Strategic Implementation very useful in thinking about the processes and tasks of translating strategy into effective organizational action." Sumantra Ghoshal, London Business School.


Collects the insights of leading practitioners and academics experienced in executive education in one volume.


This integrated book of readings is in four sections which deal respectively with new models of the process of strategy implementation, key roles in the strategic change process, and success factors in strategic implementation.


Topics include the narrative of strategic change, management of uncertainty, the role and utility of consultants as well as emotional intelligence, the leadership of learning, the role of teams in implementation and the public sector context.


Final section focuses on practice and the enablers of successful strategic implementation with case examples drawn from well known international companies.


The authors are drawn from leading Irish, UK and US business schools and from experienced practitioner associated with these schools.