Managing Technological Innovation: Competitive Advantage from Change, 3rd Edition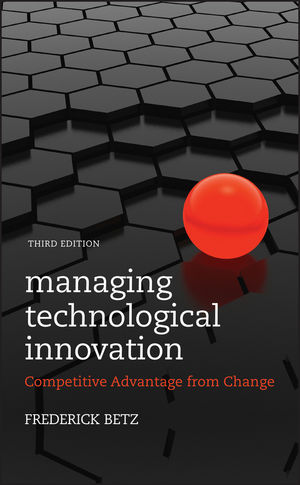 Managing Technological Innovation: Competitive Advantage from Change, 3rd Edition
ISBN: 978-0-470-95171-2 April 2011 384 Pages
Description
Written by the author who helped crystalize the field of technology management and the management of innovation with the first two editions of Managing Technological Innovation, this Third Edition brings the subject in line with current business strategy. It also presents information in a newer organized format that aligns more closely with how the topics are presented and discussed in the classroom. Also included is a wider discussion of how science and technology interact with the global economy.
Table of contents
Preface.
I Technology Competitiveness—Business Base of Innovation.
1 Technological Innovation.
2 Innovation and Economy.
3 Innovation and National Systems.
4 Innovation Research.
5 Innovation and Corporate R&D.
6 Innovation and Markets.
7 Innovation and Product Development.
8 Innovation and Strategy. 
II Technology Strategy—Technical Base of Innovation.
9 Integrating Technology and Business Strategy.
10 Inventing Technology.
11 Technology Systems.
12 Product Systems.
13 Service Systems.
14 Biotechnology Systems.
15 Ethics and Technology.
III Innovation Handbook.
16 Innovation Practice.
Bibliography.
Index.