Managing and Using Information Systems: A Strategic Approach, 6th Edition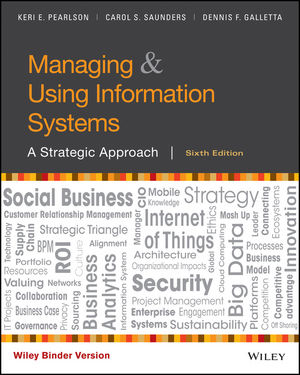 Managing and Using Information Systems: A Strategic Approach, 6th Edition
ISBN: 978-1-119-24428-8
Jan 2016
336 pages
Description
Managing and Using Information Systems: A Strategic Approach, Sixth Edition, conveys the insights and knowledge MBA students need to become knowledgeable and active participants in information systems decisions. This text is written to help managers begin to form and point of view of how information systems will help, hinder and create opportunities for their organizations. It is intended to provide a solid foundation of basic concepts relevant to using and managing information.
• New Chapter on IS Security:Given the acceleration of security breaches, readers will find a new chapter on IS securityTo illustrate key points, breaches at the U.S. Office of Personnel Management, Ashley Madison, Sony Pictures, Target, eBay, and Home Depot are discussed.

• Updates to Existing Material: The material on analytics and "big data" has been extensively updated to reflect the growing importance of the topic. The chapter on work design has been reorganized and extensively revised. Each of the other chapters has been revised with newer concepts added, discussions of more current topics fleshed out, cases updated or replaced, and old, outdated topics removed or at least their discussion shortened. For example, the topics of digital ecosystems and the internet of things have been added, and an opening case in one of the chapters has been replaced by an exclusive interview with a Fortune 50 CIO.

• A New Perspective: The perspective of mobile technologies, social business, and global considerations are woven throughout the chapters.
• MBA-Level Foundation Book: This text is designed as an MBA-level foundational book on IS concepts from which professors can build in their own selection of cases and readings.

• Covers the key, fundamental issues that managers need to be knowledgeable and active participants in information systems decisions.

• IS Strategy Triangle: The Triangle acts as a unifying theme to show the strategic context of all topics.