Managing and Using Information Systems: A Strategic Approach, 6th Edition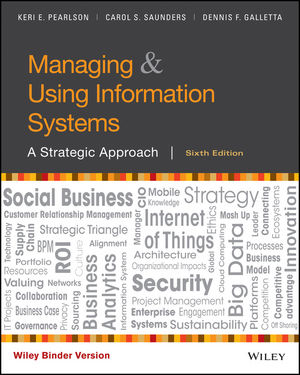 Managing and Using Information Systems: A Strategic Approach, 6th Edition
ISBN: 978-1-119-25521-5 December 2015 336 Pages
Download Product Flyer
Download Product Flyer
Download Product Flyer is to download PDF in new tab. This is a dummy description. Download Product Flyer is to download PDF in new tab. This is a dummy description. Download Product Flyer is to download PDF in new tab. This is a dummy description. Download Product Flyer is to download PDF in new tab. This is a dummy description.
Description
Managing and Using Information Systems: A Strategic Approach, Sixth Edition, conveys the insights and knowledge MBA students need to become knowledgeable and active participants in information systems decisions. This text is written to help managers begin to form and point of view of how information systems will help, hinder and create opportunities for their organizations. It is intended to provide a solid foundation of basic concepts relevant to using and managing information.
Table of contents
Preface iv
Acknowledgments vii
About the Authors viii
Introduction 1
The Case for Participating in Decisions about Information Systems 2
What If a Manager Doesn't Participate? 5
Skills Needed to Participate Effectively in Information Technology Decisions 6
Basic Assumptions 8
Economics of Information versus Economics of Things 12
Social Business Lens 14
Summary 15
Key Terms 16
1 The Information Systems Strategy Triangle 17
Brief Overview of Business Strategy Frameworks 19
Business Models versus Business Strategy 21
Brief Overview of Organizational Strategies 25
Brief Overview of Information Systems Strategy 26
Social Business Lens: Building a Social Business Strategy 27
Summary 28
Key Terms 29
Discussion Questions 29
Case Study 1-1 Lego 30
Case Study 1?-2 Google 31
2 Strategic Use of Information Resources 33
Evolution of Information Resources 34
Information Resources as Strategic Tools 36
How Can Information Resources Be Used Strategically? 37
Sustaining Competitive Advantage 43
Social Business Lens: Social Capital 47
Strategic Alliances 47
Risks 49
Geographic Box: Mobile?]Only Internet Users Dominate Emerging Countries 50
Co?-Creating IT and Business Strategy 50
Summary 51
Key Terms 51
Discussion Questions 51
Case Study 2?-1 Groupon 52
Case Study 2?-2 Zipcar 53
3 Organizational Strategy and Information Systems 55
Information Systems and Organizational Design 58
Social Business Lens: Social Networks 63
Information Systems and Management Control Systems 63
Information Systems and Culture 66
Geographic Lens: Does National Culture Affect Firm Investment in IS Training? 70
Summary 71
Key Terms 71
Discussion Questions 71
Case Study 3?-1 The Merger of Airtran by Southwest Airlines: Will the Organizational Cultures Merge? 72
Case Study 3-2 The FBI 73
4 Digital Systems and the Design of Work 75
Work Design Framework 77
How Information Technology Changes the Nature of Work 78
Social Business Lens: Activity Streams 84
Where Work Is Done and Who Does It: Mobile and Virtual Work Arrangements 86
Geographic Lens: How Do People Around the World Feel About Working Remotely? 88
Geographic Lens: Who Telecommutes? A Look at Global Telecommuting Habits 89
Gaining Acceptance for IT-Induced Change 94
Summary 96
Key Terms 97
Discussion Questions 97
Case Study 4?-1 Trash and Waste Pickup Services, Inc. 97
Case Study 4?-2 Social Networking: How Does IBM Do It? 98
5 Information Systems and Business Transformation 99
Silo Perspective versus Business Process Perspective 100
Building Agile and Dynamic Business Processes 104
Changing Business Processes 105
Workflow and Mapping Processes 107
Integration versus Standardization 109
Enterprise Systems 110
Geographic Lens: Global vs. Local ERPs 113
Social Business Lens: Crowdsourcing Changes Innovation Processes 118
Summary 119
Key Terms 120
Discussion Questions 120
Case Study 5?-1 Santa Cruz Bicycles 121
Case Study 5?-2 Boeing 787 Dreamliner 122
6 Architecture and Infrastructure 124
From Vision to Implementation 125
The Leap from Strategy to Architecture to Infrastructure 126
From Strategy to Architecture to Infrastructure: An Example 133
Architectural Principles 135
Enterprise Architecture 136
Virtualization and Cloud Computing 137
Other Managerial Considerations 139
Social Business Lens: Building Social Mobile Applications 143
Summary 144
Key Terms 144
Discussion Questions 145
Case Study 6?-1 Enterprise Architecture at American Express 145
Case Study 6?-2 The Case of Extreme Scientists 146
7 Security 147
IT Security Decision Framework 149
Breaches and How They Occurred 151
The Impossibility of 100% Security 154
What Should Management Do? 155
Summary 162
Key Terms 163
Discussion Questions 163
Case Study 7-1 The Aircraft Communications Addressing and Reporting System (ACARS) 163
Case Study 7-2 Sony Pictures: The Criminals Won 164
8 The Business of Information Technology 165
Organizing to Respond to Business: A Maturity Model 167
Understanding the IT Organization 168
What a Manager Can Expect from the IT Organization 168
What the IT Organization Does Not Do 170
Chief Information Officer 171
Building a Business Case 173
IT Portfolio Management 175
Valuing IT Investments 176
Monitoring IT Investments 177
Funding IT Resources 182
How Much Does IT Cost? 184
Summary 187
Key Terms 188
Discussion Questions 188
Case Study 8?-1 KLM Airlines 189
Case Study 8?-2 Balanced Scorecards at BIOCO 190
9 Governance of the Information Systems Organization 191
IT Governance 192
Decision?-Making Mechanisms 199
Governance Frameworks for Control Decisions 200
Social Business Lens: Governing the Content 204
Summary 205
Key Terms 205
Discussion Questions 205
Case Study 9-1 IT Governance at University of the Southeast 205
Case Study 9?-2 The "MyJohnDeere" Platform 207
10 Information Systems Sourcing 208
Sourcing Decision Cycle Framework 209
Social Business Lens: Crowdsourcing 214
Geographic Lens: Corporate Social Responsibility 220
Outsourcing in the Broader Context 224
Summary 225
Key Terms 225
Discussion Questions 225
Case Study 10-1 Crowdsourcing at AOL 225
Case Study 10?-2 Altia Business Park 226
11 Managing IT Projects 228
What Defines a Project? 230
What Is Project Management? 231
Organizing for Project Management 232
Project Elements 233
IT Projects 239
IT Project Development Methodologies and Approaches 240
Social Business Lens: Mashups 247
Managing IT Project Risk 247
Summary 253
Key Terms 254
Discussion Questions 254
Case Study 11?-1 Implementing Enterprise Change Management at Southern Company 254
Case Study 11?-2 Dealing with Traffic Jams in London 255
12 Business Intelligence, Knowledge Management, and Analytics 258
Competing with Business Analytics 259
Knowledge Management, Business Intelligence, and Business Analytics 260
Data, Information, and Knowledge 261
Knowledge Management Processes 264
Business Intelligence 264
Components of Business Analytics 265
Big Data 268
Social Media Analytics 269
Social Business Lens: Personalization and Real-Time Data Streams 271
Geographic Lens: When Two National Views of Intellectual Property Collide 272
Caveats for Managing Knowledge and Business Intelligence 274
Summary 274
Key Terms 275
Discussion Questions 275
Case Study 12?-1 Stop & Shop's Scan It! App 275
Case Study 12?-2 Business Intelligence at CKE Restaurants 276
13 Privacy and Ethical Considerations in Information Management 278
Responsible Computing 280
Corporate Social Responsibility 283
PAPA: Privacy, Accuracy, Property, and Accessibility 284
Social Business Lens: Personal Data 289
Geographic Lens: Should Subcultures Be Taken into Account When Trying to Understand National Attitudes Toward Information Ethics? 292
Green Computing 292
Summary 293
Key Terms 294
Discussion Questions 294
Case Study 13?-1 Ethical Decision Making 295
Case Study 13?-2 Midwest Family Mutual Goes Green 297
Glossary 299
Index 313
New To This Edition
• New Chapter on IS Security:Given the acceleration of security breaches, readers will find a new chapter on IS securityTo illustrate key points, breaches at the U.S. Office of Personnel Management, Ashley Madison, Sony Pictures, Target, eBay, and Home Depot are discussed.

• Updates to Existing Material: The material on analytics and "big data" has been extensively updated to reflect the growing importance of the topic. The chapter on work design has been reorganized and extensively revised. Each of the other chapters has been revised with newer concepts added, discussions of more current topics fleshed out, cases updated or replaced, and old, outdated topics removed or at least their discussion shortened. For example, the topics of digital ecosystems and the internet of things have been added, and an opening case in one of the chapters has been replaced by an exclusive interview with a Fortune 50 CIO.

• A New Perspective: The perspective of mobile technologies, social business, and global considerations are woven throughout the chapters.
Features
• MBA-Level Foundation Book: This text is designed as an MBA-level foundational book on IS concepts from which professors can build in their own selection of cases and readings.

• Covers the key, fundamental issues that managers need to be knowledgeable and active participants in information systems decisions.

• IS Strategy Triangle: The Triangle acts as a unifying theme to show the strategic context of all topics.