Managing for Accountability: Preserving the Public Trust in Public and Nonprofit Organizations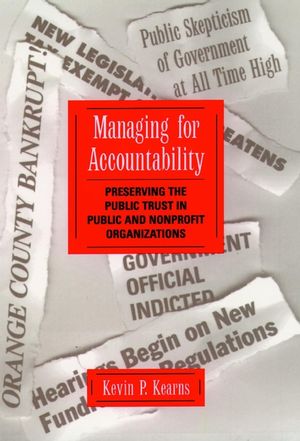 Managing for Accountability: Preserving the Public Trust in Public and Nonprofit Organizations
ISBN: 978-0-787-90228-5 March 1996 Jossey-Bass 255 Pages
Description
Managing for Accountability is an invaluable guide for organizations struggling with issues of accountability and for managers who want to maintain their outstanding record in serving the public trust. Shows how to take a proactive approach to accountability and offers a range of practical, proven strategic management approaches, advice on implementing strategic tools, illustrative examples, useful checklists, and diagnostic tools. Helps identify the strategic issues related to accountability and outlines effective tools and methods for implementing standards of responsibility and accountability.
THE ACCOUNTABILITY ENVIRONMENT OF PUBLIC AND NONPROFITORGANIZATIONS.

Accountability Concepts and Controversies: Historical Precedentsand Contemporary Trends.

Preserving the Public Trust: The Challenge of Accountability.

TOOLS FOR MANAGING ACCOUNTABILITY.

A Strategic Managing Approach: Core Principles.

Scanning the Accountability Environment.

Conducting an Accountability Audit.

Clarifying Strategic Accountability Issues.

CASE STUDIES OF ACCOUNTABILITY CHALLENGES: EXAMINING TACTICAL ANDSTRATEGIC APPROACHES.

A Cautionary Tale: The Orange County Investment Fund.

Proactive Accountability: The Sum One for Kids Project.

Conclusion: Leadership for Accountability.

Special Resource Section: Accountability Worksheets.
"Managing for Accountability offers a practical and plausibleapproach to developing and maintaining meaningful accountability."(Terry L. Cooper, professor, School of Public Administration,University of Southern California)

"I recommAnd this book to anyone involved or interested in becominginvolved in nonprofit or public service organizations andenvironments. It is subtle and clear, with strategic pointers onhow to mobilize in response to changing circumstances in the publicarena today. Managing for Accountability is a useful handbook toall who can learn to smile, cry, and moan their way through publicservice." (William J. Coyne, Congressman, Pennsylvania)

"An absolutely splAndid book--much needed and virtually definitiveas a guide to thinking about, and executing, accountabilityactivities in public and nonprofit organizations. Managing forAccountability is comprehensive, realistic, practical, andsophisticated." (Vic Murray, professor, Voluntary Sector ManagementProgram, York University)

"Kevin Kearns' book presents a practical rather than an idealisticapproach to accountability, an approach that is broad and flexibleenough for many different types of organizations....Reading thebook will provide much food for thought about the challenges ofmanaging a public or nonprofit organization." (Government FinanceReview)