Managing for World Class Safety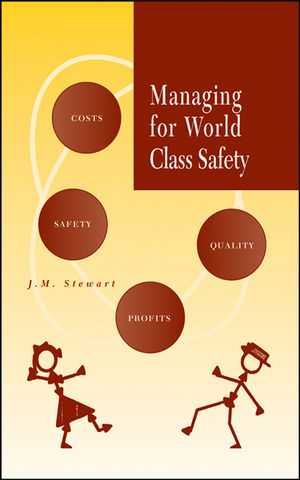 Managing for World Class Safety
ISBN: 978-0-471-44386-5 November 2001 296 Pages
Description
Despite the extensive literature on safety, few tools have been available to help managers quantitatively assess the level of safety management and the quality of the safety practices in organizations. In his consulting practice, Dr. Jim Stewart, a former executive at DuPont, developed such a method, crafting a safety survey centering on a comprehensive questionnaire for employees at all levels, that reveals the true level of corporate commitment to safety.
Managing for World Class Safety first describes the model of safety management that underpins the questionnaire and then demonstrates how this innovative procedure illuminates critical intangibles like management commitment, the enforcement of rules, worker involvement, and injury investigation.
The central part of this book is the description of research at the University of Toronto that applies the questionnaire in comprehensive research at five of the world's safest companies and five with very poor safety. The questionnaire polled 700 people in the ten companies, "measuring" the level of more than twenty key elements such as:
The workers' perception of the priority given to safety
The belief that all injuries can be prevented
The extent to which line management takes responsibility/accountability for safety
How well safety rules are followed and enforced
The frequency and quality of safety meetings
The level of recognition to reinforce safety excellence
In every element, the contrast between the responses from the very safe companies and those from the companies with poor safety was dramatic, clearly depicting where the former succeed and the latter fail
By developing quantitative benchmark data, Stewart reasons that it will be easier to convince reluctant management to undertake the fundamental change necessary for a "step change" in their company performance. Managing for World Class Safety promises a revolutionary new approach to workplace safety improvement for corporate leaders, safety professionals, and regulators.
Buy Both and Save 25%!
This item: Managing for World Class Safety
Leading with Safety (Hardcover $115.95)
Cannot be combined with any other offers.
Original Price:$254.95
Purchased together:$191.21
save $63.74
Table of contents
Foreword.

Preface.

Acknowledgments.

Introduction.

The Model of Safety Management.

The Safety Questionnaire.

Selection of Companies for Research.

Research Methodology.

Analysis of the Questionnaire Results.

The Safety Management Approaches of Five Very Safe Companies.

Conclusions -
How Companies Achieve Excellence in Safety.

Applying the Results of the Research.

Appendix A: References and End-Notes.

Appendix B: Nomenclature.

Appendix C: Questions for Interviews of Company Leaders.

Appendix D: Statistical Analysis of Data.

Appendix E: The Safety Questionnaire.

Appendix F: Tables of Detailed Results.

Appendix G: About the Author.

Index.
Reviews
"...shares a proven model for improving any organization's safety program...a valuable addition to any safety professional's library." (Professional Safety, December 2001)

"Designed to help managers quantitatively assess the level of safety management and safety practices in their organizations, this book describes a model of safety management and explains its application." (Reference & Research Book News, February 2002)

"This is an interesting book, to be read for a purpose, be that completing a diploma paper on the cost and benefits of safety or developing arguments at organisational level for greater investment in safety." (Health & Safety Review, March 2002)