Managing with the Wisdom of Love: Uncovering Virtue in People and Organizations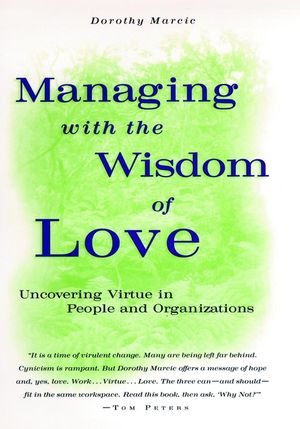 Managing with the Wisdom of Love: Uncovering Virtue in People and Organizations
ISBN: 978-0-787-90173-8 May 1997 Jossey-Bass 156 Pages
Description
Make a change for the better

Why do the best-laid plans for organizational transformation go awry? In this compelling work, Dorothy Marcic tells managers that no prescribed formula is ever complete without factoring in the human side of the equation. She asks, How would the workplace change if we acknowledged that spiritual values are as important in the operations of organizations as they are in the lives of the people who work there? The answers -- garnered from real-world examples -- banish the notion that a business can't be both spiritual AND successful, and show what it means to act as a manager with virtue.
Table of contents
1. Spirituality in the Workplace
2. Moving Towards Balance
3. Love and the New Management Virtues
4. The New Management Virtues at Work
5. Acting with the Wisdom of Love
Reviews
"A gutsy book. Marcic has spoken honestly about the responsibilities and motivations at work in a way no one has dared before. [This book] should be read by everyone interested in management and organization." -Lawrence M. Miller, President, Miller Howard Consulting Group

"Dorothy Marcic has found some men and women in business who are chasing sales and profits like everyone else, but who are living in a different world than many of us -- a world of trust and faith and love and even serenity! This book shows us how that is possible." -Peter Vaill, author of Learning as a Way of Being and Managing as a Performing Art

"With the discipline of a good scholar and the insight of a sage, Dorothy Marcic has extracted the most profound lessons from the world's wisdom literature, and has synthesized them into a compelling guide for those who would manage with the wisdom of love. But don't expect wispy new age idealism here, because Ms. Marcic has illustrated her material with persuasive, specific examples from today's American workplace." -James A. Autry, former CEO of Meredith Corporation and the author of Confessions of an Accidental Businessman, Love and Profit, and Life and Work

"Moves the reader beyond today's poverty stricken business to a business of well-being....It also provokes the inevitable for everyone: the discovery of self." -John Hormann, coauthor of Creative Work

[For use on front cover:] "It is a time of virulent change. Many are being left far behind. Cynicism is rampant. But Dorothy Marcic offers a message of hope and, yes, love. Work...Virtue...Love. The three can -- and should -- fit in the same workspace. Read this book, then ask, 'Why Not?' " -Tom Peters

"This book is a must for those in leadership positions who are committed to establishing people- and team-centered organizations that are truly empowered." -Carl M. Skoogland, Vice President, Ethics Director, Texas Instruments Inc.