Manga For Dummies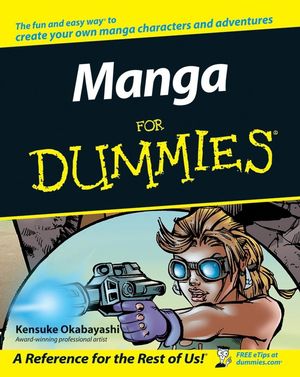 Manga For Dummies
ISBN: 978-1-118-05105-4
May 2011
432 pages
Product not available for purchase
Description
If you love Manga, you'll eat Manga For Dummies, right up. This step-by-step guide shows you how to create all of your favorite Manga characters from rough sketch through final full-color renderings.  You'll build your skills as you draw animals, mythical creatures, superheroes, teenagers, and villains—along with their weapons, cars, and homes. Soon you'll be inventing your own characters and placing them in stylish poses and stirring action scenes. Before you know it you'll be knocking out storyboards and plotlines for you own Manga book. Find out how to:
Gear up for drawing with all the right tools and materials
Develop the basic skills of Manga figure drawing
Customize and accessorize your Manga characters
Design spectacular weapons, gadgets, mechas, and vehicles
Create 3-D drawings and give characters motion and emotion
Write an exciting Manga Story
Complete with a stunning, full-color 8 page insert, Manga for Dummies is your real-life guide to the ultimate fantasy world.
Introduction.
Part I: Manga 101.
Chapter 1: Welcome to Manga World.
Chapter 2: Gearing Up and Getting Ready.
Chapter 3: Drawing: Starting with the Basics.
Part II: To the Drawing Board.
Chapter 4: Taking It from the Top with the Head.
Chapter 5: Nice Bod: Manga Body Basics.
Chapter 6: Customize and Accessorize Your Manga Character.
Part III: Calling All Cast Members!
Chapter 7: The Main Protagonists.
Chapter 8: Those Loveable Sidekicks.
Chapter 9: The Dreaded Villains.
Chapter 10: Elder Figures.
Chapter 11: Damsels in Distress.
Chapter 12: Girl Power! Shojo Manga.
Part IV: Time to Go Hi-Tech.
Chapter 13: Designing Mechas.
Chapter 14: Gadgets and Weapons.
Chapter 15: Taking Off: Vehicles and Airplanes.
Part V: An Advanced Case of Manga.
Chapter 16: Putting Manga into Perspective.
Chapter 17: Using Speed Lines to Create Motion and Emotion.
Chapter 18: Thumbnails and Scenery.
Chapter 19: Writing a Good Story.
Part VI: The Part of Tens.
Chapter 20: Ten (or so) Manga Artists.
Chapter 21: (Nearly) Ten Places to Strut your Stuff.
Index.