Manual of Clinical Paramedic Procedures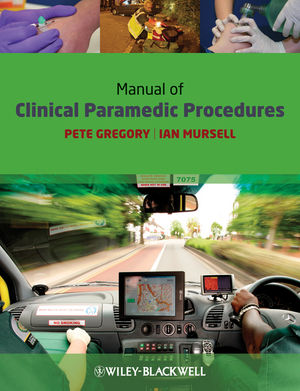 Manual of Clinical Paramedic Procedures
ISBN: 978-1-118-35570-1
Oct 2014, Wiley-Blackwell
392 pages
Description
'I can enthusiastically recommend the Manual of Clinical Paramedic Procedures as the book that I wish had been available to me when I was studying to become a paramedic.'
From the foreword by Professor Malcolm Woollard, Chair, College of Paramedics; Professor in Pre-hospital and Emergency Care & Director, Pre-hospital, Emergency & Cardiovascular Care Applied Research Group, Coventry University

Clinical procedures are a fundamental aspect of care for practitioners working in pre-hospital settings. The Manual of Clinical Paramedic Procedures is written specifically to support the practice of paramedics, ambulance technicians, first responders and volunteer ambulance personnel. It presents up-to-date, evidence-based expert knowledge, enabling paramedics to deliver effective, patient-focused care.
This accessible handbook provides a comprehensive exploration of core competencies and skills, looking at topics including Aseptic Technique, Airway Management, Assisted Ventilation, Cardiopulmonary Resuscitation, Defibrillation and External Cardiac Pacing, Observations, Pain Assessment & Management, Respiratory Therapy, Spinal Management and Venepuncture.  Each chapter provides the relevant anatomy & physiology, evidence-based rationales for each procedure, and contraindications of use.
Key features:
The first UK text to explore clinical procedures for paramedics
With further reading and illustrations throughout
All procedures include the rationale for the action recommended
Guides paramedics in the clinical application of evidence-based procedures
Introduction
Foreword
1. Airway management
Definition of airway management
Concept of a stepwise approach
Basic anatomy of the airway
Basic airway management manoeuvres
Basic airway adjuncts
Advanced airway adjuncts and cricothyroidotomy
Key points
References and Further reading
2. Assisted ventilation
Definition of assisted ventilation
Indications for assisted ventilation
The literature and complications associated with assisted
ventilation
Equipment and procedures for assisted ventilation
Key points
References and Further reading
3. Cardiopulmonary resuscitation and basic life support
Definitions
The chain of survival
Adult basic life support
Basic life support in pregnancy
Mechanical chest compression devices
The recovery position
Paediatric basic life support
Newborn life support
Foreign body airway obstruction (choking)
Key point
References and Further reading
4. Defibrillation
Definition of defibrillation
The literature behind defibrillation
Procedure for defibrillation
Definition of transcutaneous cardiac pacing (TCP)
Terminology used in transcutaneous cardiac pacing
Indications for use of transcutaneous pacing
The literature behind transcutaneous cardiac pacing
Equipment
Key points
References and Further reading
5. Cardiovascular observations and examination
techniques
The assessment of pulses
Capillary refill time measurement
Blood pressure measurement
The electrocardiogram
Cardiac auscultation
Temperature measurement
Key points
References and Further reading
6. Respiratory observations and examination techniques
Indications for respiratory assessment
Respiratory rate
Respiratory depth assessment
Chest and respiratory inspection
Chest compliance
Respiratory pattern/rhythm assessment
Oxygen saturations/pulse oximetry
Peak flow measurement
Chest percussion
Tactile vocal fremitus
Chest auscultation
Vocal resonance
Key points
References and Further reading
7. Neurological observations and examination techniques
Definitions
Level of consciousness assessment
Pupillary assessment
Assessing motor function
Assessment of reflexes
Assessment of movement and power
Assessment of co-ordination
Assessment of abnormal movements
Sensory function assessment
FAST
Vital signs
Blood glucose testing
Key points
References and Further reading
8. History taking and communication
Definitions
Key communication skills
Communication models
The practitioner–patient relationship
A standardised history framework
Questioning techniques
Consent
Key points
References and Further reading
9. Documentation and record keeping
Definitions
Why keep healthcare records?
What constitutes good medical records?
Models of record keeping
Abbreviations
Key documents in record keeping and documentation
The Caldicott Guardian
Electronic patient records
Key points
References and Further reading
10. Drug administration
Definitions
Legislation related to paramedic administration
of drugs
Drug formulations
Drug documentation
Storage of drugs
Routes of administration
Key points
References and Further reading
11. Medical gases
Definition and indications for the use of Entonox
Advantages of Entonox
Contraindications to the use of Entonox
Equipment
Principles of administration of Entonox
Procedure for administering Entonox
Troubleshooting
Definition of oxygen therapy
Indications for use
Cautions and contraindications to the use of oxygen
Equipment
Procedure for administering oxygen
Use of cylinders and cylinder safety
Key points
References and Further reading
12. Infection control
Definitions
Indications for infection control
Hand hygiene
Personal protective equipment
Key points
References and Further reading
13. Vascular access devices
Definition of a vascular access device
Anatomy of veins
Peripheral cannulas
Indications for peripheral cannulation
Selection of device for peripheral cannulation
Selection of vein
Techniques of venodilatation
Complications of peripheral venous cannulation
Procedure for peripheral venous cannulation
Intraosseous infusion
Anatomy of bones
Indications for intraosseous access
Contraindications to intraosseous access
Equipment for intraosseous access
Complications of intraosseous access
Location sites for intraosseous access
Procedures for intraosseous access
Key points
References and Further reading
14. Needle thoracocentesis
Definitions
The literature surrounding needle thoracocentesis
Equipment required
Indications for use
Contraindications of use
Potential problems of use
Procedures
Key points
References and Further reading
15. Pain assessment and management
Definitions
Acute pain v chronic pain
Assessing pain
Assessing pain in cognitively impaired patients
Overview of pain management techniques
Key points
References and Further reading
16. Fracture and soft tissue injury management
Definitions: What are fractures, sprains, strains and
dislocations?
General principles of musculoskeletal injury management
Principles of splinting
Slings and support bandages
Box splints
Vacuum splints
Neighbour strapping
Traction splints
SAM splints
Pelvic fractures
Key points
References and Further reading
17. Spinal management
Relevant gross anatomy
Evidence on how to immobilise the spine
Hazards and complications associated with spinal
immobilisation
Indications for spinal immobilisation
Equipment and procedures
Key points
References and Further reading
18. Assessment and management of wounds and burns
Definitions
Classification of wounds
Wound healing
Principles of wound management
The use of tourniquets and haemostatic dressings
Burns assessment
Burn management principles
Key points
References and Further reading
19. Moving and handling procedures
Definitions
Why is moving and handling important?
Key legislation
Manual handling and no lift policies
Risk assessment in moving and handling
Biomechanical principles
Principles of manual handling
Additional principles
Lifting aids
Key points
References and Further reading
Index
"Throughout its 19 chapters and 378 pages, there are excellent drawings and photographs which suggest the authors promote the old adage of a picture says a thousand words. Manual of Clinical Paramedic Procedures is an all encompassing procedure book promoting good." (Journal of Emergency Primary Health Care (JEPHC), August 2010)
"The content is both contemporary and reflective of evidence based practice. Written by paramedics for paramedics. A rarity indeed. A must read for all in the profession." (
Journal of Paramedic Practice
, July 2010)
The first UK text to explore clinical procedures for paramedics
With further reading and illustrations throughout
All procedures include the rationale for the action recommended
Guides paramedics in the clinical application of evidence-based procedures