Manual of Mineral Science, 23rd Edition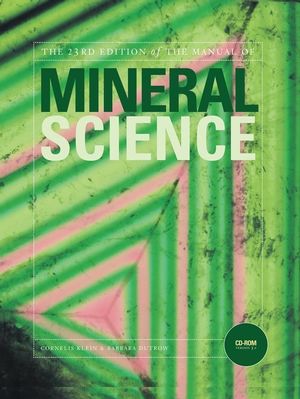 Manual of Mineral Science, 23rd Edition
ISBN: 978-0-470-53687-2 September 2009 704 Pages
Description
First published in 1848, authored by J.D. Dana, the Manual of Mineral Science now enters its 23rd edition.  This new edition continues in the footsteps or its predecessors as the standard textbook in Mineralogy/Mineral Science/Earth Materials/Rocks and Minerals courses. 

This new edition contains 22 chapters, instead of 14 as in the prior edition.  This is the result of having packaged coherent subject matter into smaller, more easily accessible units.  Each chapter has a new and expanded introductory statement, which gives the user a quick overview of what is to come.  Just before these introductions, each chapter features a new illustration that highlights some aspect of the subject in that particular chapter.  All such changes make the text more readable, user-friendly and searchable.  Many of the first 14 chapters are reasonably independent of each other, allowing for great flexibility in an instructor's preferred subject sequence.  The majority of illustrations in this edition were re-rendered and/or redesigned and many new photographs, mainly of mineral specimens, were added.

NEW Thoroughly Revised Lab Manual       ISBN13: 978-0-471-77277-4

Also published by John Wiley & Sons, the thoroughly updated Laboratory Manual: Minerals and Rocks: Exercises in Crystal and Mineral Chemistry, Crystallography, X-ray Powder Diffraction, Mineral and Rock Identification, and Ore Mineralogy, 3e, is for use in the mineralogy laboratory and covers the subject matter in the same sequence as the Manual of Mineral Science, 23e.
1. INTRODUCTION
2. PHYSICAL PROPERTIES OF MINERALS
3. ELEMENTS OF CRYSTAL CHEMISTRY
4. ASPECTS OF CRYSTAL STRUCTURES
5. CHEMICAL COMPOSITION OF MINERALS
6. CRYSTALLOGRAPHY: EXTERNAL SYMMETRY OF MINERALS
7. INTERNAL ORDER AND SYMMETRY IN MINERALS
8. CRYSTAL PROJECTIONS
9. SELECTED POINT GROUPS AND FURTHER ASPECTS OF SPACE GROUPS
10. CRYSTAL GROWTH AND DEFECTS;
TWINNING, COLOR, AND MAGNETISM
11. MINERAL STABILITY AND PHASE DIAGRAMS
12. POST-CRYSTALLIZATION PROCESSES IN MINERALS
13. OPTICAL MICROSCOPY
14. ANALYTICAL AND IMAGING METHODS IN MINERAL SCIENCE
15. CRYSTAL CHEMISTRY AND SYSTEMATIC DESCRIPTIONS OF NATIVE ELEMENTS, SULFIDES, AND SULFOSALTS
16. CRYSTAL CHEMISTRY AND SYSTEMATIC DESCRIPTIONS OF OXIDES, HYDROXIDES, AND HALIDES
17. CRYSTAL CHEMISTRY AND SYSTEMATIC DESCRIPTIONS OF CARBONATES, NITRATES, BORATES, SULFATES, CHROMATES, TUNGSTATES, MOLYBDATES, PHOSPHATES, ARSENATES AND VANADATES
18. CRYSTAL CHEMISTRY OF ROCK-FORMING SILICATES
19. SYSTEMATIC DESCRIPTIONS OF ROCK-FORMING SILICATES
20. GEM MINERALS
21. MINERAL ASSEMBLAGES: INTRODUCTION TO ROCK TYPES
22. DETERMINATIVE TABLES

APPENDIX 1. Outstanding Contributions to the Mineral Sciences
APPENDIX 2. Development of Models for the Atom
APPENDIX 3. Developing Hermann-Mauguin Symbols for Symmetry Notation
APPENDIX 4. Distribution of forms in the 32 Point Groups, Arranged by Crystal System
APPENDIX 5. Space Groups as an Expression of Morphology and Structure

MINERAL INDEX
SUBJECT INDEX