Manual of Perioperative Care in Adult Cardiac Surgery, 4th Edition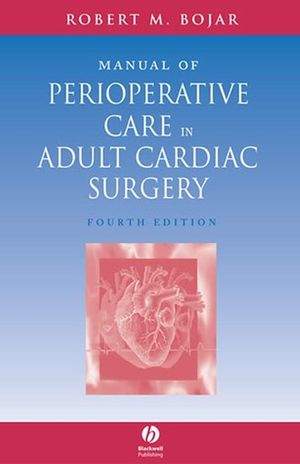 Manual of Perioperative Care in Adult Cardiac Surgery, 4th Edition
ISBN: 978-1-444-31835-7
Aug 2009, Wiley-Blackwell
640 pages
Description
Extensively revised to cover recent advances in cardiac surgery, the fourth edition of Bojar's Manual of Perioperative Care in Adult Cardiac Surgery remains the gold standard for management of adult patients undergoing cardiac surgery.





The easily referenced outline format allows health practitioners of all levels to understand and apply basic concepts to patient care—perfect for cardiothoracic and general surgery residents, physician assistants, nurse practitioners, cardiologists, medical students, and critical care nurses involved in the care of both routine and complex cardiac surgery patients.


This comprehensive guide features:



Detailed presentation addressing all aspects of perioperative care for adult cardiac surgery patients

Outline format allowing quick access to information

Chronological approach to patient care starting with diagnostic tests then covering preoperative, intraoperative, and postoperative care issues

Additional chapters discussing bleeding, the respiratory, cardiac, and renal subsystems in depth, and aspects of care specific to recovery on the postoperative floor

Completely updated references

Extensive illustrations, including NEW figures depicting operative techniques

14 helpful appendices covering order and flow sheets, protocols, commonly used drug dosages, and procedures
Practical and accessible, the Manual of Perioperative Care in Adult Cardiac Surgery is the essential reference guide to cardiac surgical patient care.
Preface
.
Acknowledgments.
Dedication



Synopsis of Adult Cardiac Surgical Disease

Diagnostic Techniques in Cardiac Surgery

Preoperative Considerations and Risk Assessment

Cardiac Anesthesia

Cardiopulmonary Bypass

Myocardial Protection

Admission to the ICU and Monitoring Techniques

Early Postoperative Care

Mediastinal Bleeding and Its Management

Respiratory Management

Cardiovascular Management

Fluid Management, Renal and Metabolic Problems

Post-ICU Care and Other Complications
.
Appendices.
Appendix 1 Typical Preoperative Order SheetAppendix 2 Typical Orders for Admission to the ICU.
Appendix 3 Transfer Orders from the ICU.
Appendix 4 Typical ICU Flowsheet.
Appendix 5 Heparinization Protocol for Cardiac Surgery Patients.
Appendix 6 Hyperglycemia Protocol for Cardiac Surgery Patients.
Appendix 7 Doses of Parenteral Medications Commonly Used in the ICU and Their Modifications in Renal Failure.
Appendix 8 Doses of Nonparenteral Medications Commonly Used After Heart Surgery and Their Modifications in Renal Failure.
Appendix 9 Drug and Food Interactions with Warfarin (Coumadin).
Appendix 10 Definitions from the STS Data Specifications (2004).
Appendix 11 Technique of Thoracentesis.
Appendix 12 Technique for Tube Thoracostomy.
Appendix 13 Technique for Insertion of Percutaneous Tracheostomy Tube.
Appendix 14 Body Surface Area Nomogram for Adults.
Index
"It remains a classic…continues to be relevant, informative and evidence based, which for a single author work is extraordinary.the only weakness with this text is that it does not fit in your pocket…there is no easily accessed, thoroughly referenced website that provides the information contained in this book. For now, it is a far more powerful and useful tool and should be available in your intensive care unit."
—Annals of Thoracic Surgery, March 2006

"This is a high quality book that is particularly helpful to nonsurgeon practitioners or surgical residents who care for adult cardiac surgery patients. The strength of the book lies in its comprehensive coverage of the many peripheral details of the adult cardiac surgery patient in all phases (preoperative, intraoperative, and postoperative) of care. The author addresses the many evolving changes in cardiac surgery and the updates make this new edition valuable"

—Ralph J. Damiano, MD, Washington University School of Medicine

"This book is great for a practitioner in cardiac surgery who is looking for more than an introduction to what diseases are, but their work up and treatment. This is a reference tool that gives you a fundamental knowledge base to work from. The comprehensive nature of the procedures and postoperative management make this book a unique reference. I abandoned the use of all other books when I found this one."

—Loisann Stapleton, RN, MSN, ACNP, CCRN, Acute Care Nurse Practitioner, Cardiology, Neptune, New Jersey

"The content of this book is quite contemporary. The references are complete and include historically important data, as well as the most recent updates and new data. This book's concise review of topics, tables, figures, sample orders, and checklists all allowed for quick reference and review. It is much easier to use than many of the other books out there. This book is a great pocket manual for students, surgical housestaff, surgical and ICU nurses, and surgical technicians."

—Eric H. Awtry, MD, FACC, Director of Education, Section of Cardiology, Boston, Massachusetts

"This book gives a comprehensive overview of the most practical aspects of cardiac patient surgical care. A broad area of knowledge is covered and provides the reader a base to build upon later. It allows students, Physician Assistants, and residents new to the field an opportunity to learn quickly about cardiac surgery in a point-by-point manner that is time efficient and practical. The new 4th edition is updated and to the point with practical applications. I would give this book an A."

—Julie Pappalardo, MHS, PA-C, Physician Assistant in Cardiothoracic Surgery, Bridgeport, Connecticut

"This textbook is a complete manual for students and practitioners involved in the care of cardiac surgery patients…providing a complete presentation of cardiac surgery within the confines of a handbook. Similar textbooks exist, however, this manual appears to provide the most complete and updated review of topics dedicated to the care of those patients. Caregivers of all levels are likely to benefit by keeping this manual readily available to assist with the management of routine and complex patients."

—The Journal of the American College of Surgeons on the third edition
The gold standard for management of adult patients undergoing cardiac surgery


Addresses ALL aspects of perioperative care for adult cardiac surgery patients

Can be read by all levels of healthcare providers, such as surgeons, physician assistants, critical care nurses and nurse practitioners, and cardiologists

Uses outline format and chronological presentation
New to 4th Edition



Additional chapters discussing bleeding, the respiratory, cardiac, and renal subsystems in depth, and covering care specific to recovery on the postoperative floor

Completely updated references and extensive illustrations, including new figures depicting operative techniques

14 helpful appendices covering order and flow sheets, protocols, commonly used drug dosages, and procedures