Manual of Remote Sensing, Volume 3, Remote Sensing for the Earth Sciences, 3rd Edition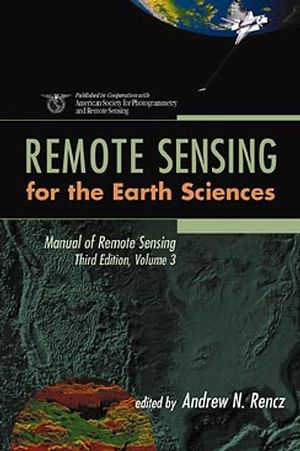 Manual of Remote Sensing, Volume 3, Remote Sensing for the Earth Sciences, 3rd Edition
ISBN: 978-0-471-29405-4
Mar 1999
728 pages
Description
An outstanding new reference work
REMOTE SENSING for the Earth Sciences
Remote Sensing for the Earth Sciences is a comprehensive, up-to-date resource for geologists, geophysicists, and all earth scientists. Produced in cooperation with the American Society for Photogrammetry and Remote Sensing, it is the third volume of the Manual of Remote Sensing, Third Edition, the widely accepted basic reference work in the field. It brings together contributions from an international team of scientists active in remote sensing and earth sciences research.
The book is organized for quick access to topics of particular interest, beginning with coverage of spectral characteristics that focuses on the theory of rock, mineral, soil, and vegetation spectra, as well as planetary geology. The second section on data analysis is devoted to procedures used in information extraction and techniques used in the visual display of data, particularly in the integration of various geospatial data. The third section addresses applications of remote sensing in areas such as mineral and hydrocarbon exploration, stratigraphic mapping, engineering geology, and environmental studies. The final chapters offer a discussion of sensors relevant to the earth sciences-including radar, visible, infrared, and geophysical sensors-along with case study examples.
Complete with color figures, helpful illustrations, and thorough references-including Internet sources -this volume is a major resource for researchers and practitioners working in the earth and environmental sciences.
SPECTRAL CHARACTERISTICS.

Spectroscopy of Rocks and Minerals and Principles of Spectroscopy (R. Clark).

Multispectral Thermal Infrared Data in Geological Studies (S. Hook, et al.).

Soil Reflectance (E. Ben-Dor, et al.).

Geobotany: Vegetation Mapping in Earth Science (S. Ustin, et al.).

ANALYSIS.

Spectral Analysis for Earth Science Investigation (J. Mustard & J. Sunshine).

Integration and Visualization of Geoscience Data (J. Harris, et al.).

APPLICATIONS.

Stratigraphy (H. Lang).

Strategies for Mineral Exploration (C. Sabine).

Hydrocarbon Exploration (J. Berry & G. Prost).

Planetary Geology (J. Bell, et al.).

SENSORS/CASE STUDIES.

Visible and Infrared: Sensors and Case Studies (F. Kruse).

Radar: Sensors and Case Studies (J. Plaut, et al.).

Geophysical Methods (J. Broome).

Index.
"...a significant and stimulating new book." (The Photogrammetric Record, October 2000)