Manual of Skin Diseases of the Dog and Cat, 2nd Edition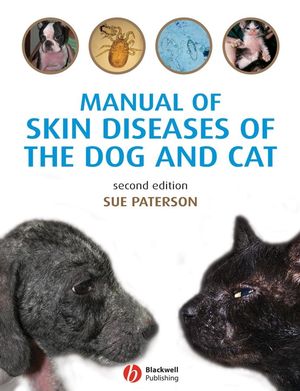 Manual of Skin Diseases of the Dog and Cat, 2nd Edition
ISBN: 978-1-444-30932-4
Mar 2009, Wiley-Blackwell
368 pages
Description
Manual of Skin Diseases of the Dog and Cat, Second Edition provides a valuable asset to the practice library for quick and easy reference on a busy day. Dealing with all common skin diseases in both the dog and the cat, particular attention is paid to the differences between the two species. Each chapter looks at a different type of skin disease with descriptions of clinical presentations and a guide for diagnostic tests for each. This book is a combined update of two of Sue Paterson's books, Skin Diseases of the Dog and Skin Diseases of the Cat, into one volume for ease of reference.



Particular emphasis is placed on those diagnostic techniques available to the veterinarian within a general practice environment

Provides a practical approach to diagnosis and management

Contains almost 500 color photographs of common and rare skin conditions
1. Introduction - Structure and Function.
2. Approach to the Case.
3. Diagnostic Tests.
4. Bacterial Skin Disease.
5. Fungal Skin Disease.
6. Viral, Rickettsial and Protozoal Diseases.
7. Parasitic Skin Disease.
8. Endocrine and Metabolic Skin Disease.
9. Otitis Externa.
10. Allergic Skin Disease.
11. Immune Mediated Skin Disease.
12. Alopecia.
13. Nutritional Skin Disease.
14. Congenital and Hereditary Skin Diseases.
15. Pigment Abnormalities.
16. Psychogenic Skin Disease.
17. Keratinisation Defects.
18. Miscellaneous Skin Diseases in the Dog.
19. Miscellaneous Skin Diseases in the Cat.
20. Environmental Skin Diseases.
21. Neoplastic and Non Neoplastic Tumours
"The book is a paperback, small, easy to read, and up-to-date and is a good addition for a busy practitioner's library. The price is reasonable for the amount of information contained." (Journal of the American Veterinary Medical Association, March 2009)
"Manual of Skin Diseases of the Dog and Cat is a concise, well-written reference text on small animal dermatology. The book is a paperback, small, easy to read, and up-to-date and is a good addition for a busy practitioner's library. The price is reasonable for the amount of information contained." (
Journal of the American Veterinary Medical Association,
March 2009)"Approximately 500 excellent color photographs illustrate the diseases in each chapter... another helpful feature is the index which makes it easy to find diseases of interest.  This edition will be a useful reference for veterinary practitioners and technicians.  The author has included a wider variety of diseases than found in an otherwise similar book." -
Doody's Book Reviews
, December 2008
"The second updated edition... provides an important reference both for libraries catering to vets and for a vet's quick reference at the office. It offers color photos of common skin diseases in both the dog and cat, offering insights on testing, treatment options, and life cycles of diseases. A key acquisition for any collection catering to vets at all levels, as well as for offices." - Midwest Book Review, December 2008


strong emphasis is placed on a practical approach to diagnosis and management

quick and easy to use reference handbook

over 500 colour photographs and diagrams are provided to aid diagnosis

written by a highly qualified author with a wealth of experience