Manuel Castells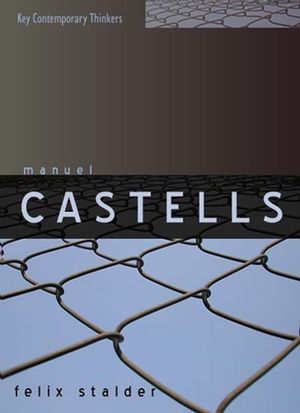 Manuel Castells
ISBN: 978-0-745-63276-6 March 2006 Polity 272 Pages
Description
First in-depth study of Manuell Castells pioneering work
Traces Castells thought from his work on urban change in the 1970s to his recent theories of global social transformations
Distills the central ideas in Castells work into an accessible and concise introduction for undergraduate students
Explores Castells writings on the network society, informational capitalism and democracy in crisis
Provides a critical analysis of Castells thought in relation to ongoing debates about globalization
Reviews
"Manuel Castells holds a well-deserved place at the centre of debates over the 'information age' that he helped to name. Felix Stalder offers a sustained and careful appraisal of Castells's work, both incisively critical at some points and generously acknowledging the quality of his achievement at others."
David Lyon, Queens University, Ontario

"This book is a very beautiful model of how one mind engages with another: Felix Stalder has seized the essence of Manuel Castells's work and its immense relevance to our time. Daring to be positively critical, Stalder enlarges and also defines Castells's arguments. Thus the book multiplies Castells by Stalder and the result is an instant expansion of the mind of the reader."

Derrick DeKerckhove, University of Toronto
Features


First in-depth study of Manuell Castell's pioneering work

Traces Castell's thought form his work on urban change in the 1970's to his recent theories of global social transformations


Distills the central ideas in Castell's work into an accessible and concise introduction for undergraduate students

Explores Castell's writings on the network society, informational capitalism and democracy in crisis

Provides a critical analysis of Castell's thought in relation to ongoing debates about globalization