Marginalized Students: New Directions for Community Colleges, Number 155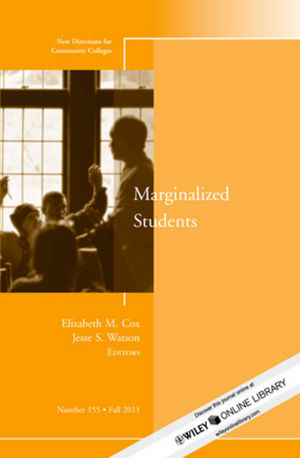 Marginalized Students: New Directions for Community Colleges, Number 155
ISBN: 978-1-118-18524-7 September 2011 Jossey-Bass 112 Pages
Description
Gone are the days when the term diversity may have been used to solely signify the color of one's skin or gender. This volume examines how diverse and marginalized populations are situated within American community colleges amd pushes the boundaries of our understanding of these terms.

The editors and contributing authors examine various student groups as well as give voice to the marginalization felt by a group of faculty. Topics include:
Examining the concept of student marginalization through a framework based on Dewey's 1916 work, Democracy and Education
Experiences of Adult English as Second Language learners
Seeing the community college environment through the eyes of student athletes
Current research on lesbian, gay, bisexual, transgender, and queer (LGBTQ) community college students and the need for more
Student Veterans
Underprepared college students
and community College faculty in correctional institutions.
The volume concludes with key resources for anyone who works with or researches marginalized populations. The resources include sources for further reading, existing organizations serving various marginalized groups, and some possible funding opportunities.
This is the 155th volume of the Jossey-Bass quarterly report series New Directions for Community Colleges. Essential to the professional libraries of presidents, vice presidents, deans, and other leaders in today's open-door institutions, New Directions for Community Colleges provides expert guidance in meeting the challenges of their distinctive and expanding educational mission.
EDITORS'NOTES 1
Elizabeth M. Cox, Jesse S. Watson
1. Deweyan Democratic Learning Communities and Student Marginalization 5
Clifford P. Harbour, Gwyn Ebie
Taking a step back for a greater vantage point, this chapter applies Deweyan principles to the ongoing efforts of community colleges as they work at defusing marginalization on campus.
2. Noncredit to Credit Transitioning Matters for Adult ESL Learners in a California Community College 15
Liza A. Becker
A single-institution, adult immigrant study in southern California is the basis for this chapter, which explores the issues and needs of cultural and academic transitions.
3. Developing an Institutional Culture toward Degree Attainment for Student Athletes 27
David Horton, Jr.
This chapter investigates how institutions can better serve their student athletes who are marginalized despite their seemingly high profile and publicly recognizable campus position.
4. A Primer on LGBTQ Students at Community Colleges: Considerations for Research and Practice 35
Eboni M. Zamani-Gallaher, Dibya Devika Choudhuri
Utilizing available theories and literature, this chapter provides recommendations and identifies how lines of future research can assist in the service of LGBTQ students.
5. Student Veterans and Community Colleges 51
Corey Rumann, Marisa Rivera, Ignacio Hernandez
This chapter illuminates the struggles and experiences of veteran students who return to college after completing their service, as well as providing exemplars and recommendations to connect veterans to campus.
6. Beyond Remedial Dichotomies: Are 'Underprepared' College Students a Marginalized Marjority? 59
Regina Deil-Amen
This author takes a broader perspective on remediation, discussing how remediation is more than a sequence of courses or only localized to community colleges by tying preparedness levels to issues of postsecondary access.
7. Borderland Stories about Teaching College in Prison 73
Susanna Spaulding
Adjunct faculty on community college campuses are often marginalized, and as they enter correctional facilities, their position is even more estranged when compared to their campus-based peers, inmate students, and corrections officers.
8. Key Resources on Marginalized Students 85
Susana Hernandez, Ignacio Hernandez
This chapter compiles additional service-centered resources to assist practitioners in reaching marginalized communities on their campuses.
INDEX 91