Market Magic: Riding the Greatest Bull Market of the Century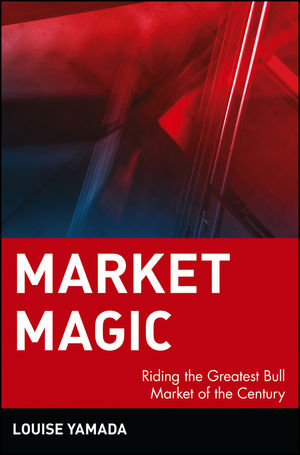 Market Magic: Riding the Greatest Bull Market of the Century
ISBN: 978-0-471-19759-1
Mar 1998
272 pages
Description
"A technical tour de force, destined to become the thinking bull's bible."-Kathryn Welling, Barron's

Renowned for her analytical brilliance and extraordinary forecasting ability, LOUISE YAMADA examines the forces that will shape the markets for the next ten years

"Few on Wall Street can match Louise Yamada for analytical ability as well as insight on the big issues affecting investors. We are fortunate she is willing to share the results of her thoughts and research with us."-Mark Haines, CNBC

"Louise Yamada has a special talent for anticipating future financial trends. Market Magic is a must read for investors as we prepare for the exciting decade ahead."-David Cork, F.C.S.I. author of The Pig and the Python: How to Prosper from the Aging Baby Boom

"Market Magic demystifies the voodoo of technical analysis and relates technical indicators to the real world of stocks and bonds and demographic and economic trends worldwide."-Oscar S. Schafer, General Partner
Cumberland Associates; Member, Barron's Roundtable

For updates on new and bestselling Wiley Finance titles: wiley.com/wbns
THE EVOLUTION OF DISCOVERY: TECHNICAL UNDERPINNINGS OF THE GREATEST BULL MARKET OF THE TWENTIETH CENTURY.

U.S. Bull Market Extension? There Is Historic Precedent.

The Two-Tier Market Thesis.

Recent History/Market Projections.

NEW HORIZONS FOR THE TWENTY-FIRST CENTURY.

Changing Demographics.

Demographics and the Stock Market.

The Long-Wave Cycle: A Brief Consideration.

The New Technological Era: Observations and Conceptual Thoughts.

Old-Tech and New-Tech: Need for New Sectors.

Revisiting the Capital/Consumer Ratio.

Looking for Inflation in All the Wrong Places.

New Agricultural Direction for the United States.

UNSCRAMBLING THE PUZZLES.

Asking Questions.

New Economic Perceptions.

Stock Market Implications and Expectations.

CONCLUSION.

What Lies Ahead: Other Emerging Forces at Work.

Notes.

Index.
"In analyzing the current bull market, you can miss the forest for the trees unless you take a step back and look at the big picture, writes Louise Yamada in MARKET MAGIC. And that's exactly what Yamada does in this book-she conducts an in-depth analysis of the current market."-Registered Representative

"Few on Wall Street can match Louise Yamada for analytical ability as well as insight on the big issues affecting investors. We are fortunate she is willing to share the results of her thoughts and research with us."-Mark Haines, CNBC

"Louise Yamada has a special talent for anticipating future financial trends. Market Magic is a must read for investors as we prepare for the exciting decade ahead." -David Cork, F.C.S.I., author of The Pig and the Python: How to Prosper from the Aging Baby Boom

"Market Magic demystifies the voodoo of technical analysis and relates technical indicators to the real world of stocks and bonds and demographic and economic trends worldwide."-Oscar S. Schafer, General Partner, Cumberland Associates; Member, Barron's Roundtable