Market Microstructure Theory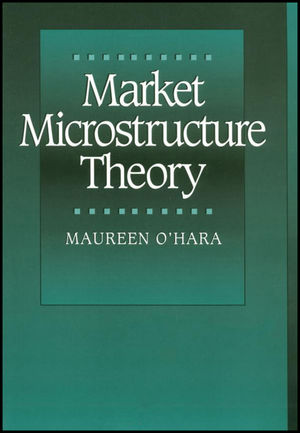 Market Microstructure Theory
ISBN: 978-1-557-86443-7 April 1995 304 Pages
Description
Written by one of the leading authorities in market microstructure research, this book provides a comprehensive guide to the theoretical work in this important area of finance.
Foreword.
1. Markets and Market-Making.
2. Inventory Models.
3. Information-Based Models.
4. Strategic Trader Models I: Informed Traders.
5. Strategic Trader Models II: Uninformed Traders.
6. Information and the Price Process.
7. Market Viability and Stability.
8. Liquidity and the Relationships between Markets.
9. Issues in Market Performance.
* Provides a unified exposition and examination of the major models and theories used in market microstructure.
* Extensive examination and discussion of information-based models with emphasis on linkage with rational expectations model and learning models.
* Explains how the main theoretical models work, the benefits and weaknesses of each model, the evolution of the literature, and the issues still un-addressed.
* Concluding chapters focus on price dynamics and applications of the various models to specific microstructure problems. Extensive appendices developing Bayesian learning and the rational expectations framework