Market Myths and How to Beat Them: Calculated Ways To Beat Top Mistakes for Profit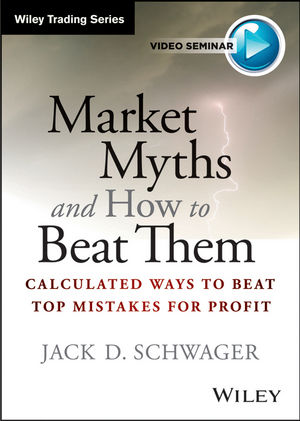 Market Myths and How to Beat Them: Calculated Ways To Beat Top Mistakes for Profit
ISBN: 978-1-118-52286-8 February 2012
Description
Are markets truly efficient? Or is it possible to gain an edge?

Run time: 95 minutes. Widely recognized as a trading industry expert, Jack Schwager is the author of the best-selling series of interviews with the greatest traders and hedge fund managers of the last two decades, Market Wizards, New Market Wizards, and Stock Market Wizards. His very first book, A Complete Guide to the Futures Markets, is considered a classic reference work in trading.

Now, Schwager has dug even deeper into his analysis of the world's best traders and their trading styles in order to answer this question once and for all—to identify what really works, and what mistakes can cost you dearly. Join in as he guides you through the data, saving you years upon years of research, and showing you how to apply all that he's gleaned to today's markets to achieve your trading goals.

He will teach you:
· How to interpret strategic implications for hedge fund investing
· When to consider investing in the "worst" performers
· Why bad risk analysis is worse than no risk analysis
· How to capitalize on the mistakes that other traders make
· How to identify and avoid the worst possible loss to focus you on the highest probability money-makers

PLUS, you will get the special bonus video appendix, where Schwager walks you through the performance measurement formulas you MUST know, including:
· The Sharpe Ratio
· The Sortino Ratio
· Gain-to-Pain Ratio
· Schwager's own proprietary Tail Ratio
· The Mar and CalMar Ratios
· Return Retracement Ratio

Schwager will reveal how each one is calculated and how to use them to maximize your chances of profiting on EVERY trade.