Market Timing For Dummies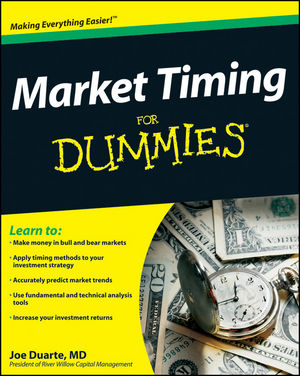 Market Timing For Dummies
ISBN: 978-0-470-46074-0 January 2009 360 Pages
Description
Want to improve your market timing so you can send your investment returns soaring?
Market Timing For Dummies
takes the guesswork out of developing a trading strategy and provides all of the tools you need to forecast, prepare for, and take advantage of market trends and changes.
This authoritative guide is packed with expert advice on how to increase your profits and limit your risk. It helps you grasp the psychology behind market timing as you learn the basics of the method, analyze our finances, select the right software and equipment, and define your market trading style. You'll get the hang of using technical analysis to identify trends and reversals, catch key turning points, and manage risk as you track general market trends, develop a feel for when a particular trend is vulnerable to change, and seize the moment! Discover how to:
Understand how Wall Street really works
Use a wide array of market-timing tools
Anticipate and prepare for trend shifts using technical analysis
Time the stock market with the seasons
Time with a feel for the pulse of the market
Execute successful timing trades
Time the stock, bond, foreign, and commodities markets
Yes! You can make money in any market, whether trends are rising, falling, or moving sideways. Let Market Timing For Dummies show you how.
Table of contents
Introduction.
Part I: Stepping into the World of Market Timing.
Chapter 1: Becoming a Market Timer.
Chapter 2: Peering Inside the Mind of a Market Timer.
Chapter 3: Preparing Yourself and Your Finances for Timing.
Chapter 4: Charting Your Course: The Market Timer's Edge.
Part II: Market Timing's Methods and Strategies.
Chapter 5: Timing with the Reports That Move the Markets.
Chapter 6: The Seasons and Cycles That Infl uence the Markets.
Chapter 7: Digging In to Trends, Momentum, and Results.
Chapter 8: Timing with Feeling: Making Market Sentiment Work for You.
Part III: Applying Timing to the Markets.
Chapter 9: Timing in the Real World: Examining a Sample Trade.
Chapter 10: Timing the Stock Market.
Chapter 11: Timing the Bond Market.
Chapter 12: Timing Foreign Markets.
Chapter 13: Timing the Metals, Heavy or Not.
Chapter 14: Timing Commodities: Making Money Down on the Farm.
Chapter 15: Timing Currencies and Related Markets.
Part IV: Timing the Sectors.
Chapter 16: The Timer's Dream: Sector Investing.
Chapter 17: Timing Financial Service Stocks.
Chapter 18: Timing the Technologies.
Chapter 19: Timing the Energy Sector.
Chapter 20: Timing the Health Care Sector.
Part V: The Part of Tens.
Chapter 21: Ten Game Savers to Know and Trust.
Chapter 22: Ten-Plus Awesome Resources.
Index.