Marketing, 3rd Edition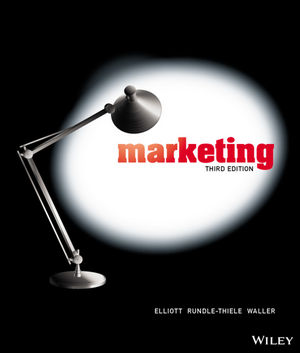 Marketing, 3rd Edition
ISBN: 978-1-118-62417-3
May 2014
640 pages
Product not available for purchase
Description
Marketing 3rd edition, is the ideal text for the undergraduate Introductory Marketing course in the Asia-Pacific region. Significantly, it is an original work rather than being an adaptation of a US text. The 1st edition of this text was the most successful 'ground-up' Introductory Marketing text ever released in the local market.
Building on the strengths of the previous two editions, the text and its extensive accompanying digital resources are designed to engage students in the study of marketing. A diverse range of organisations, goods and services from Australia, New Zealand and the Asian region are featured to illustrate key concepts, coupled with detailed coverage of the latest marketing theory, research and thinking. This text provides a thorough analysis of contemporary marketing, including detailed coverage of digital marketing initiatives, as well as more traditional methods. It is an essential guide to best practice. 
Chapter 1 Introduction to marketing
Chapter 2 The marketing environment and market analysis
Chapter 3 Market research
Chapter 4 Consumer behaviour
Chapter 5 Business buying behaviour
Chapter 6 Markets: segmentation, targeting and positioning
Chapter 7 Product
Chapter 8 Price
Chapter 9 Promotion
Chapter 10 Distribution
Chapter 11 Services marketing
Chapter 12 Digital marketing
Chapter 13 International marketing
Chapter 14 Social and not-for-profit marketing
Chapter 15 Marketing planning, implementation and evaluation
Appendix
Marketing plan
Brand new dedicated chapter on 'Social and Not-for-Profit Marketing'.
Increased coverage of the latest digital marketing initiatives incorporating social media, blogs, online communities and other forms of consumer-generated marketing.
New and/or updated in-chapter research, statistics and boxed features.
Wiley Interactive E-Text (including iStudy).
Colour-coded chapter learning objectives, Spotlight boxed features and chapter summaries highlight key concepts and associated real world applications within each chapter. In addition to the text itself, the Test Bank, PowerPoints and Instructor's Resource Guide are also categorised by chapter learning objective for ease of navigation.
Colour-coded 'Concepts and applications' check boxes at the end of each learning objective allow students to review and apply key concepts to check for understanding before progressing onto more advanced material.
Marketing Plan activities are provided for each chapter, allowing students to progressively develop a marketing plan for a product of their own choosing. A real-world marketing plan is also provided as an Appendix at the back of the book to guide students through this process.
Advanced activities are provided for each chapter, asking students to think critically and apply what they have learned to issues from the real-world examples that are used to introduce each chapter.
Interactive Study Guide to accompany the printed text contains multimedia resources ideal for online learning and the application of key marketing concepts.