Marketing Champions: Practical Strategies for Improving Marketing's Power, Influence, and Business Impact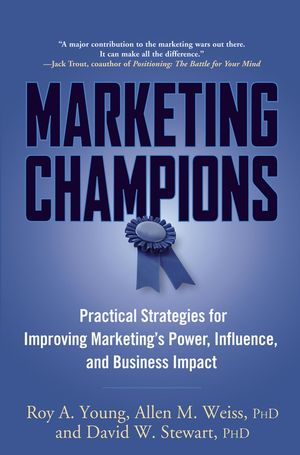 Marketing Champions: Practical Strategies for Improving Marketing's Power, Influence, and Business Impact
ISBN: 978-0-471-74495-5 September 2006 288 Pages
Description
Praise for Marketing Champions
"Much has been written about the importance of using marketing principles and tools effectively. But we've paid far less attention to how marketing works within an organization--and how marketers can better interact with other prime movers in their companies. This book really delivers on this much-neglected subject--sounding a wake-up call to marketers everywhere on how to exert their influence and improve their contribution to cash flow."
--Philip Kotler, S.C. Johnson Distinguished Professor of International Marketing, Kellogg School of Management, Northwestern University
"The authors understand that marketing is now the most important force within an organization--if you can figure out how to coordinate the rest of your colleagues. This book shows you how."
--Seth Godin, author of Small Is the New Big
"This leadership guide is a must-read for every executive who wants to understand the crucial connection between marketing and bottom-line results."
--Warren Bennis, Distinguished Professor of Business Administration, University of Southern California, and author of On Becoming a Leader
"The best marketing leaders are those who can harness the power of the enterprise--not just lead the marketing team. This book will give you the ability to align and inspire the entire company."
--Jerry Noonan, Spencer Stuart
PREFACE: ARE YOU AMARKETING CHAMPION? ix
Why This Book? x
The Marketing Champion's Imperative xiii
The Marketing Compass xv
About Our Research xvi
PART ONE: Understand the Landscape 1
1. DEFYMARKETINGMYTHS 3
Myths about Marketing 4
Myths and Consequences: Marketing's Confused Role 9
Four Distorted Views 10
Transforming the Marketing Landscape in Your Organization: What You'll Learn in This Book 17
2. CLEAN UP YOUR LANGUAGE 25
Clarifying the Language of Marketing 26
Say What You Mean, and Mean What You Say 30
Standardize Your Professional Processes 31
Translate Marketing into the Language of Business 34
Tips for Talking Business 41
PART TWO: Manage North 47
3. MAKEMARKETINGMATTER TO YOUR CEO 49
Sleepless in the C Suite 50
Marketing to the Rescue 52
A Word about the Board and Wall Street 64
Your CEO SWOT Analysis 69
4. FORGE A FRIENDSHIP WITH YOUR CFO 72
Understand Your CFO's Needs 73
Give Your CFO Something of Value 73
Marketing: The Wellspring of Profit 78
Marketing: A Growth Driver 82
Let's Talk: Communicating Regularly with Your CFO 86
CFOs under Pressure: A Note about Sarbanes-Oxley 90
Your CFO SWOT Analysis 94
5. DEFINEMETRICS FORWHATMATTERS 96
Your Marketing Metrics Audit Process 101
Tips for Selecting and Using Marketing Metrics 114
PART THREE: Manage East 121
6. BUST SILOS AND BUILD BRIDGES 123
A Closer Look at Silos 124
Silos and You 128
Busting Silos: Five Tactics 129
7. SCRATCH SALES'S BACK 145
Help Sales Boost Velocity 146
Define Qualified Leads 149
Manage the Lead Pipeline 152
Quantify the Lead Pipeline's Financial Value 153
Overcome Price Resistance 155
Accelerate Sales Funnel Flow 158
Your Sales Partnership SWOT Analysis 167
8. DREAM WITH THE R&D TEAM 169
Marketing and R&D: A Crucial Partnership 169
Conduct an Innovation Review 173
Reduce R&D's Risk 174
Craft Compelling Product Stories 183
Your R&D Partnership SWOT Analysis 186
PART FOUR: Manage South 189
9. BUILD A BRAND FORMARKETING 191
Perception Becomes Reality 192
Two Little Words 194
Reshaping Perceptions of Marketing 200
Your Brand-Building SWOT Analysis 207
10. DELIVER ONMARKETING'S BRAND PROMISE 209
Leverage the Power of Persuasion 210
Establish Transparent, Repeatable Processes 218
Forge Productive Working Relationships with Agencies 223
Make Smart Marketing Decisions 225
Your Brand-Delivery SWOT Analysis 227
PART FIVE: Manage West 229
11. LEVERAGE FRESH OPPORTUNITIES ON THE BUSINESS FRONTIER 231
Evaluating New Opportunities 232
Reclaiming Marketing's Lost Heritage 239
Act on Your Assessments of Opportunities 241
Your New Opportunities SWOT Analysis 247
12. LEAD THEWAY IN THE CASH-FLOW FRONTIER 249
Market Yourself 250
Get a Reputation 251
Conquer the Time Crunch 257
Find a Mentor 260
Your Leadership Future SWOT Analysis 262
INDEX 263
PROMOTION ON MARKETINGPROFS.COM: The author's website publishes a popular weekly newsletter that goes to 130,000 marketing professionals, with an average of 8,000 new signups per month. Member organizations of MarketingProfs include IBM, Procter & Gamble, Visa, 3M, Google, Microsoft, Intel, and GE, among other market leaders.  Marketingprofs.com will: publish highlights from the book; feature the book in an upcoming marketing awards program; sponsor a webcast with a presentation by Young and a panel of senior marketers; sponsor a "webcast" with a lead presentation by the author and a panel of senior marketers; and email their newsletter subscribers with a link to buy the book on Amazon.
ENDORSEMENTS FROM JACK TROUT & OTHER LEADING MARKETERS
AUTHOR PLATFORM: In addition to promotions through MarketingProfs.com, the authors will promote the book at several marketing conferences, as well as speaking engagements (e.g., the conference organizer, IIR, has expressed interest in including the author as a speaker in several 2005 marketing conferences), corporate workshops, and  Executive Education Programs at business schools.
"…this superb new book…is essential reading for those looking to develop their leadership skills and become 'marketing champions' in their organisations'". (The Marketer, June 2007)