Marketing For Dummies, 2nd UK Edition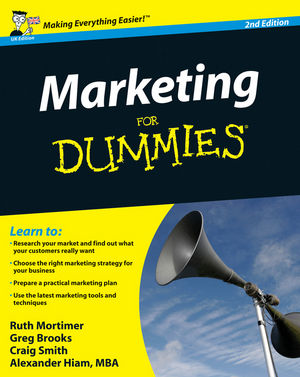 Marketing For Dummies, 2nd UK Edition
ISBN: 978-1-119-99231-8
Nov 2010
420 pages
Description
Marketing is one of the most important aspects in business today, but it's also highly competitive and complicated, with intricate strategies and methods of delivery to understand and retain.

This straight-forward guide leads you through every aspect of marketing. Fully updated to include all the recent marketing trends, including digital marketing and using new media, it's packed with expert tips on identifying customers, using online resources, satisfying your customer's needs and boosting your sales.

Discover how to:
Understand the basics of effective marketing
Research customers, competitors and industry
Create a compelling marketing strategy
Increase consumer awareness
Satisfy clients' needs and boost sales
Introduction.
Part I: Where You Are, Where You're Going.
Chapter 1: Making the Most of Your Marketing.
Chapter 2: Clarifying Your Marketing Strategy.
Chapter 3: Writing a Marketing Plan.
Part II: Creative Thinking, Powerful Marketing.
Chapter 4: Researching Your Customers, Competitors and Industry.
Chapter 5: Harnessing Creativity in Your Business.
Chapter 6: Making Your Marketing Communications More Powerful.
Part III: Advertising Everyone can Do.
Chapter 7: Brochures, Press Ads and Print.
Chapter 8: Signs, Posters and More.
Chapter 9: TV and Radio Ads (or Your Own Show!)
Part IV: Powerful Alternatives to Advertising.
Chapter 10: E-marketing.
Chapter 11: Using Search Engines.
Chapter 12: Tapping into Networking Sites.
Chapter 13: Direct Marketing and Telemarketing.
Chapter 14: Public Relations and Word of Mouth.
Chapter 15: Face-to-Face Marketing.
Part V: Connecting With Your Customers.
Chapter 16: Branding, Managing and Packaging a Product.
Chapter 17: Using Price and Promotions.
Chapter 18: Distribution, Retail and Point of Purchase.
Chapter 19: Sales and Service Essentials.
Part VI: The Part of Tens.
Chapter 20: Ten Common Marketing Mistakes to Avoid.
Chapter 21: Ten (Or So) Ways to Save Money in Marketing.
Chapter 22: Ten (Or So) Ideas for Lower-Cost Advertising.
Index.