Marketing For Dummies, WHS Travel Edition, 2nd UK Edition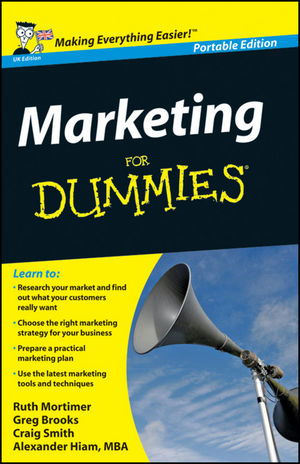 Marketing For Dummies, WHS Travel Edition, 2nd UK Edition
ISBN: 978-1-119-97435-2
Oct 2011
272 pages
Product not available for purchase
Description
Smart marketing techniques to get your business noticed
Packed with practical advice from a team of industry experts, this readable guide features all the latest tools and techniques to help you connect with new customers and retain existing ones. From choosing the right strategy and preparing a marketing plan, to igniting your imagination and producing compelling advertising, you'll be creating a buzz and increasing profits in no time.
Plan your marketing strategy and maximise your success – make use of a wide range of resources to research your customers, competitors and market, position your business and prepare a powerful marketing plan

Create successful advertising and promotions – explore your options for cost-effective advertising, produce press and print ads, design signs and posters and create ads for TV, radio and online

Expand online with the latest e-marketing tools – spread your message with viral marketing, make the most of search engines, get mobile with your marketing and harness the power of social networking

Connect with your customers – create a brand identity, design eye-catching packaging, price your products to maximise your sales and provide first-class customer service
Open the book and find:
Up to date information on all the latest marketing innovations

Clear guidance to help you plan your strategy

Advice on making the seven Ps work for you

Tools and techniques to maximise your marketing impact

Information on using direct marketing and PR

Guidance to help you stay on the right side of the UK data laws

Top tips for saving money in marketing
Learn to:
Research your market and find out what your customers really want

Choose the right marketing strategy for your business

Prepare a practical marketing plan

Use the latest marketing tools and techniques
Introduction.
Part I: Where You Are, Where You're Going.
Chapter 1: Making the Most of Your Marketing.
Chapter 2: Your Marketing Strategy and Plan.
Chapter 3: Researching Your Customers, Competitors and Industry.
Part II: Advertising Everyone can Do.
Chapter 4: Brochures, Signs and Posters.
Chapter 5: Press, TV and Radio Ads.
Part III: Powerful Alternatives to Traditional Advertising.
Chapter 6: Digital Marketing.
Chapter 7: Direct Marketing and Telemarketing.
Chapter 8: Public Relations, Word of Mouth and Live Marketing.
Part IV: Connecting With Your Customers.
Chapter 9: Branding, Managing and Packaging a Product.
Chapter 10: Distribution, Retail, Price and Promotions.
Part V: The Part of Tens.
Chapter 11: Ten Common Marketing Mistakes to Avoid.
Chapter 12: Ten (or so) Ways to Save Money in Marketing.
Index.