Marketing Lessons from the Grateful Dead: What Every Business Can Learn from the Most Iconic Band in History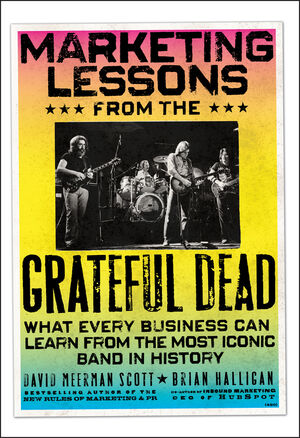 Marketing Lessons from the Grateful Dead: What Every Business Can Learn from the Most Iconic Band in History
ISBN: 978-0-470-94084-6
Aug 2010
192 pages
Description
The Grateful Dead-rock legends, marketing pioneers
The Grateful Dead broke almost every rule in the music industry book. They encouraged their fans to record shows and trade tapes; they built a mailing list and sold concert tickets directly to fans; and they built their business model on live concerts, not album sales. By cultivating a dedicated, active community, collaborating with their audience to co-create the Deadhead lifestyle, and giving away "freemium" content, the Dead pioneered many social media and inbound marketing concepts successfully used by businesses across all industries today.
Written by marketing gurus and lifelong Deadheads David Meerman Scott and Brian Halligan, Marketing Lessons from the Grateful Dead gives you key innovations from the Dead's approach you can apply to your business. Find out how to make your fans equal partners in your journey, "lose control" to win, create passionate loyalty, and experience the kind of marketing gains that will not fade away!
FOREWORD.
INTRODUCTION.
PART ONE THE BAND.
Chapter 1 Create a Unique Business Model.
Chapter 2 Choose Memorable Brand (and Band) Names.
Chapter 3 Build a Diverse Team.
Chapter 4 Be Yourself.
Chapter 5 Experiment, Experiment, Experiment.
Chapter 6 Embrace Technology.
Chapter 7 Establish a New Category.
PART TWO THE FANS.
Chapter 8 Encourage Eccentricity.
Chapter 9 Bring People on an Odyssey.
Chapter 10 Put Fans in the Front Row.
Chapter 11 Build a Following.
PART THREE THE BUSINESS.
Chapter 12 Cut Out the Middleman.
Chapter 13 Free Your Content.
Chapter 14 Be Spreadable.
Chapter 15 Upgrade to Premium.
Chapter 16 Loosen Up Your Brand.
Chapter 17 Partner with Entrepreneurs.
Chapter 18 Give Back.
Chapter 19 Do What You Love.
Acknowledgments.
"Furthur" Reading.
About the Photographs.
About the Illustrations.
About the Authors.
"Like all the best teachers, this book inspires you to do your own thinking.... I found it enlightening and liberating." (
Financial Times
, August 2010)
"...a short but inspiring book which will give every business person pause for thought and some good ideas." (TheBookBag.co.uk, August 2010)
"...fits four decades' worth of guitar solos and weed smoking into the context of recent American marketing." (The Guardian.co.uk, September 2010)
"...there's certainly much to be taken away from this book." (Business Life, October 2010)
"...a well-written and sprightly little book...they may just be on to something." (Management Today, Octobe 2010)
"...offers advice to marketing executives across a broader range of industries." (Director, October 2010)
'Sex, drugs, rock 'n roll and ground-breaking marketing communications, what more could you ask?' (Marketing.ie, April 2011).


"The origins of the book are not in the field of cultural economics. However, it raises some very interesting issues about the area and also of the general relationships between the disciplines of marketing and economics, even perhaps about the nature of American culture." (Journal of cultural economics 2015)
Chapter
Page
Details
Date
Print Run
91
Errata in Text
change "50,000" to 500,000
8-Apr-17

---

100
Errata in Text
change "commiserate" should be replaced with "commensurate."
8-Apr-17

---

115
Errata in Text
change "zero" to one and change "a pandemic" to an endemic
8-Apr-17

---