Marketing Mistakes and Successes, 12th Edition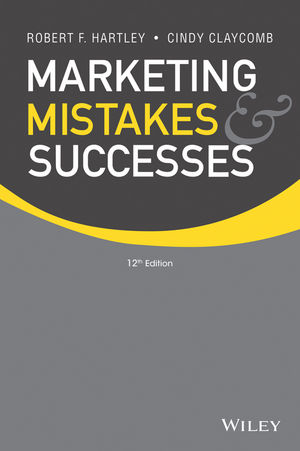 Marketing Mistakes and Successes, 12th Edition
ISBN: 978-1-118-07846-4
Oct 2013
416 pages
Description
This best-selling casebook, now in its 12th edition, presents a series of real-life scenarios, packed with practical tips, insider insights, and marketing advice. In an engaging, conversational style, each story provides detailed analyses of the decisions and practices that led to major marketing wars, comebacks, mistakes, and successes.

As a supplement or main text, this book can be used in a variety of courses, both undergraduate and graduate, ranging from introduction to marketing, marketing management and strategic marketing. Adopt the whole book, or choose the cases that best fit your syllabus through a simple three-step process in Wiley Custom Select. Visit customselect.wiley.com to get started.
Preface iii
About the Authors vi
Chapter 1 Introduction 1
PART I MARKETING WARS 9
Chapter 2 Cola Wars: Coke vs. Pepsi 11
Chapter 3 PC Wars: Hewlett-Packard vs. Dell 34
Chapter 4 Airliner Wars: Boeing vs. Airbus 50
PART II COMEBACKS 73
Chapter 5 McDonald's: Rebirth Through a Low Growth Strategy 75
Chapter 6 Harley-Davidson: Building An Enduring Mystique 94
Chapter 7 Chrysler: Merger Problems and Recovery 109
PART III MARKETING MANAGEMENT MISTAKES 127
Chapter 8 Newell's Acquisition of Rubbermaid: An Unbelievable Disappointment 129
Chapter 9 Kmart and Sears: A Hedge Fund Manager's Disaster 142
Chapter 10 Euro Disney: Bungling a Successful Concept 156
Chapter 11 Borders: Too Comfortable with Its Comfy Bookstores 174
Chapter 12 Maytag: A Sales Promotion Debacle in England and the Allure of Outsourcing 186
Chapter 13 Borden: Letting Brands Wither 202
Chapter 14 United Way: Damage Control for a Nonprofit's Image 215
PART IV ENTREPRENEURIAL ADVENTURES 229
Chapter 15 Google: Will an Entrepreneurial Giant Continue to Rule? 231
Chapter 16 Starbucks: Can a Model of Growth Reinvent Itself? 250
Chapter 17 Boston Beer: Is Greater Growth Possible? 266
PART V ETHICAL MISTAKES 281
Chapter 18 Merck: The Vioxx Catastrophe 283
Chapter 19 MetLife: Deceptive Sales Practices 298
Chapter 20 Toyota: Accelerating Problems 311
PART VI NOTABLE MARKETING SUCCESSES 329
Chapter 21 Southwest Airlines: Is It Still the King of Cheap Flights? 331
Chapter 22 Nike: Is It an Unassailable Powerhouse Brand? 351
Chapter 23 Vanguard: Is Advertising Really Needed? 369
Chapter 24 Conclusions: What We Can Learn 381
Index 400
Updated and revised coverage of notable marketing mistakes and well-known successes.
New Classification of Cases by major marketing topics.
All cases have been updated with the most current research
Two new cases are introduced—Toyota (in Ethical Mistakes) and Borders (in Marketing Mistakes).
Current, relevant and engaging marketing cases: with a story-telling approach, this text illustrates marketing concepts through memorable, real-life situations.
Information Boxes and Issue Boxes:  these features are included in each chapter to highlight relevant concepts and issues, or related information.
Devil's Advocate exercises:  Provide students with opportunities to argue against a proposed course of action to test its merits.
Discussion Questions and Hands-On Exercises: Encourage and stimulate student involvement