Marketing Module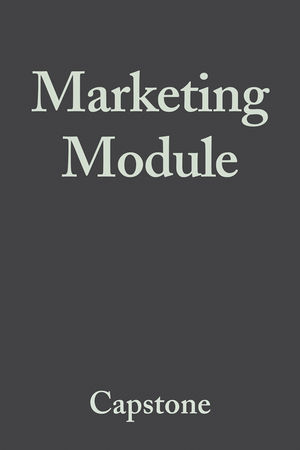 Marketing Module
ISBN: 978-1-841-12403-2
Jul 2002, Capstone
960 pages
Description
You can take a product to market, but can you make it sell? This module takes readers from first steps to leading-edge marketing, using real-world examples of how the 4P's are successfully applied globally today, and offers incisive thought on the hottest marketing topics, from reputation management to branding, in the online and offline economy.

ExpressExec is a unique 12 modular resource of current business practice. Each module contains 10 individual titles that combined cover all the key aspects of business practice globally today.

Written by leading experts in their field and commissioned specifically for ExpressExec the knowledge imparted provides an executive with the tools and skills to increase their contribution to an organisation. Each title gives you the key concepts behind the subject and the techniques to implement the ideas effectively, together with lessons from benchmark companies and ideas from the world's smartest thinkers.

The 10 books in the ExpressExec Marketing module are:
Marketing Express
Global Marketing
E-Marketing
Customer Relationship Management
Reputation Management
Sales Promotion
Channel Management
Branding
Market Research
Sales Management
ExpressExec is a perfect learning solution for people who need to master the latest business thinking and practice quickly.
Introduction to Express Exec

Introduction

Definition of Terms

The Evolution of Marketing

The E-Dimension

The Global Dimension

The State of the Art

In Practice

Key Concepts and Thinkers

Resources

Ten Steps to Making It Work

Frequently Asked Questions (FAQs)

Index