Marketing Performance: How Marketers Drive Profitable Growth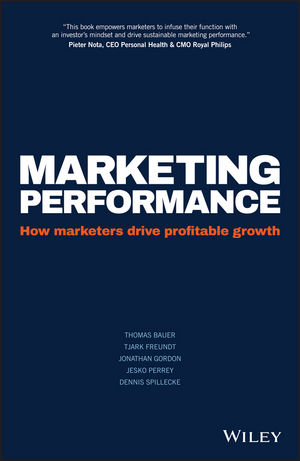 Marketing Performance: How Marketers Drive Profitable Growth
ISBN: 978-1-119-27838-2 May 2016 200 Pages
Description
Drive marketing ROI with an investor's mindset and a proven toolkit
Top marketers today don't shy away from financial accountability. In fact, they actively seek to account for the return on their companies' investments in marketing – because they want their budget to make a difference for their brands and for their business: more relevant messages, more effective campaigns, more satisfied customers, more profitable promotions, higher returns to shareholders. If this is how you think about marketing, this book is for you. It is a book for CMOs who adopt an investor's mindset, and it deals with the most pressing marketing performance questions.
This isn't a work of theory. This is a hands-on guide to better marketing for top managers, neatly packaged into ten concise chapters that are just right for a short-haul flight.
Learn how to:
Increase sales with smarter fund allocation
Reduce marketing costs without sacrificing effectiveness
Strengthen the role of marketing with quantified ROI
Build capabilities for sustainable performance improvements
Marketing Performance delivers expert insight, a wealth of proven success factors, and real-life case studies that will help you drive marketing performance and grow your business.
Introduction: Smart Money vii
How much should I invest?
1 Budget sizing: Combine multiple lenses to right-size your marketing budget 1
2 Allocation: Put your money where your strategy is 19
How should I shape my messages?
3 Insights: Discover what really matters to consumers to sharpen your proposition 35
4 Storytelling: Take a publisher's mindset and tell stories that cut through the clutter 51
How will I reach my target group?
5 One currency: Compare apples to apples as you make trade-offs between instruments 71
6 Science: Apply advanced analytics to drive fact-based mix optimization 89
How do I ensure excellence in execution?
7 Smart activation: Trim the fat off key instruments to drive incremental benefit 107
8 Partners: Build performance partnerships with marketing service providers 127
How can I drive change and sustain impact?
9 IT solutions: Use marketing ROI decision support solutions to transform your company 143
10 Agility: Infuse your organization with a return on investment mindset 159
Credits 177
Index 179