Marketing Research, 10th Edition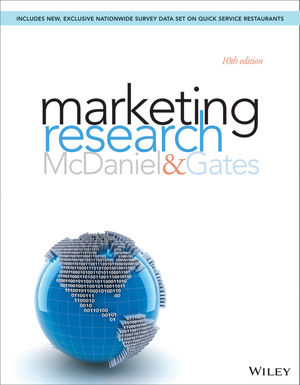 Marketing Research, 10th Edition
ISBN: 978-1-119-03214-4
Oct 2014
624 pages
Description
In Marketing Research, 10th Edition, authors Carl McDaniel and Roger Gates share their industry experience to teach students how to make critical business decisions through the study of market research. Designed for marketing research courses, the authors' practical, applications-based approach features Real Data, Real People, and Real Research, to prepare students to conduct and use market research for future careers in business. Co-author Roger Gates, President of DSS Research, infuses the text with a practitioner perspective, helping students learn how to use marketing research through a practical presentation of theory and practice.
Chapter 1 The Role of Marketing Research in Management Decision Making
Chapter 2 The Marketing Research Industry and Research Ethics
Chapter 3 Problem Definition, Exploratory Research, and the Research Process
Chapter 4 Secondary Data and Databases
Chapter 5 Qualitative Research
Chapter 6 Traditional Survey Research
Chapter 7 Online Marketing Research
Chapter 8 Primary Data Collection: Observation
Chapter 9 Primary Data Collection: Experimentation and Test Markets
Chapter 10 The Concept of Measurement
Chapter 11 Using Measurement Scales to Build Marketing Effectiveness
Chapter 12 Questionnaire Design
Chapter 13 Basic Sampling Issues
Chapter 14 Sample Size Determination
Chapter 15 Data Processing and Fundamental Data Analysis
Chapter 16 Statistical Testing Of Differences and Relationships
Chapter 17 Bivariate Correlation and Regression
Chapter 18 Multivariate Data Analysis
Chapter 19 Communicating the Research Results
Chapter 20 Managing Marketing Research
WileyPLUS Learning Space is an easy way for students to learn, collaborate, and grow. With WileyPLUS Learning Space, students create a personalized study plan, assess progress along the way, and make deeper connections as they interact with the course material and each other. Visit www.WileyPLUSlearningspace.com for more information (Access to WileyPLUS Learning Space is sold separately)
Coverage of Big Data: the authors introduce big data in Chapter 1 and discuss it throughout the text
Coverage of Mobile and Social Media Marketing Research: in Chapter 7 the authors discuss the change in how decision making information is obtained and what data is gathered through mobile and social media platforms.
Quick Service Restaurant (QSR) Survey: This new case examines how Americans 18 to 34 years old view, patronize, and consume food from chains such as McDonalds, Taco Bell, and many more. By analyzing the data students can gain insights on what factors caused consumers to patronize a particular chain and which chains perform the best on factors such as quality of food, menu variety, atmosphere and others. The case also features a host of demographic characteristics to enable you to analyze preferences, likes and dislikes by attitudes toward health and nutrition, level of education, income, living situation, and other variables.   This case is available in the back of the text just before the index.
Real World Content: Real data, real research, and real people are featured throughout the text to help students connect content and theory to actual business decisions.
Applied Approach: The most practical marketing research text offers a practitioner perspective to teach students how they will use market research in future careers.
Coverage of new market trends and innovations: as the field of marketing research continues to transform, the authors provide the latest on trends and methodology. They introduce and discuss topics such as big data, analytics, and mobile and social media market research.