Marketing Research, 11th Edition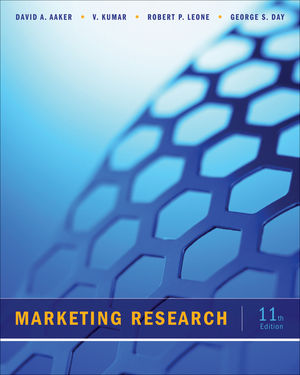 Marketing Research, 11th Edition
ISBN: 978-1-118-54429-7
Sep 2012
768 pages
Product not available for purchase
Description
Marketing Research, 11th Edition prepares marketing students to make data driven business decisions. With a focus on market intelligence, strategy, theory and application, the authors introduce the latest developments in the field of marketing research and discuss their impact on marketing research applications—all in a macro-micro-macro framework to help students understand the big picture.This revised edition, while building on the online marketing research content, tracks recent developments in areas such as relationship marketing, social media, and mobile marketing and explores how these advancements are moving to the forefront of business strategies.
NEW Wiley Marketing Research Video Series: interviews with key personnel at leading market research companies illustrate how they apply the major concepts of marketing research to their businesses.
NEW Coverage of Current Trends: The chapter on Marketing Research on the Internet has undergone a major revision with the addition of new material on topics such as Google Analytics, trends in on-line advertising spending, and changes in the international arena. 
NEW Cases and Study Questions: This new content is related to current problems facing marketing researchers such as how to reach subjects by phone, the use of omnibus survey panels, focus group design, and web-based marketing research.
Emphasis on the role of marketing intelligence and focus on the techniques and steps that show how a company can gather marketing intelligence prepares students for strategic decision making.
The end of chapter and end of part cases, covering a range of products and organizations, stimulate interest, add realism, and help develop decision-making skills.
Unique macro-micro-macro organization: the authors introduce marketing research through a macro-level treatment of what it is and where it fits in an organization, then move to a micro-level and decision-oriented approach; and finally, end with a macro-level approach to the applications of marketing research.