Marketing Research: The Second Pacific Rim Edition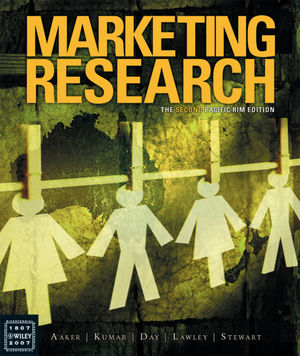 Marketing Research: The Second Pacific Rim Edition
ISBN: 978-0-470-81070-5
May 2007
622 pages
Product not available for purchase
Description
Marketing Research: The Second Pacific Rim edition reflects contemporary developments and examples in Marketing Research. The text maintains the strengths of the original Aaker, Kumar and Day text, and is presented in an engaging and accessible style. A visual map evolves throughout the text, guiding students through the entire marketing research process step by step. 

 

The text retains a clear focus on marketing research as a tool for helping organisations achieve their goals, and uses the macro–micro approach of reviewing the entire research process before considering each component part in detail. The focus is on understanding and conducting market research as the basis for making sound business decisions. 
Chapter 1 The Nature and Scope of Marketing Research
Part 1: Problem Definition
Chapter 2 Defining the Research Problem
Part 2: Research Design
Chapter 3 Introduction to Research Design
Part 2: Section A Secondary & Standardised Sources
Chapter 4 Secondary and Standardised Sources of Marketing Data
Part 2: Section B Exploratory & Qualitative Research
Chapter 5 Depth Interviews and Focus Groups
Chapter 6 Additional Qualitative Techniques
Part 2: Section C Descriptive Research
Chapter 7 Planning the Survey
Chapter 8 Measurement
Chapter 9 Questionnaire Design and Administration
Part 2: Section D Causal Research
Chapter 10 Experimentation
Part 3: Sampling
Chapter 11 Sampling Fundamentals
Chapter 12 Sample Size
Part 4: Data Analysis
Chapter 13 Fundamentals of Data Analysis
Chapter 14 Hypothesis Testing: Basic concepts and tests
Chapter 15 Correlation, Regression, and Factor Analysis
Part 5: Presenting the Results
Chapter 16 Presenting Research Results
Project workbook - to help students create their own market research project comprising a series of practical tips, checklists and worksheets
Practical industry profiles - examples from the Pacific Rim
Coverage of both qualitative and quantitative research methods
Variety of Pacific Rim cases, including 'Online Voting' and 'Coffee Connection' running cases.
To save students money, a value-packed version is also available with the following resources:
SPSS: Analysis without Anguish by Coakes
XSIGHT Student Version Software.