Marketing Research Essentials, 8th Edition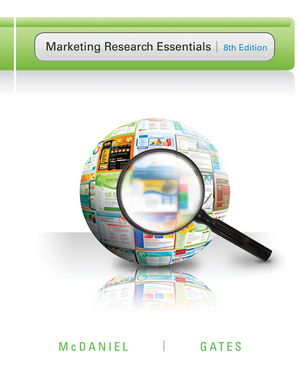 Marketing Research Essentials, 8th Edition
ISBN: 978-1-118-54292-7
Sep 2012
480 pages
Product not available for purchase
Description
In the eighth edition of Marketing Research, McDaniel and Gates continue to share their industry experience to teach students how to make critical business decisions through the study of market research. The authors' practical, applications-based approach features real data, real people, and real research, to prepare students to conduct and use market research for future careers in business.
Co-author Roger Gates, President of DSS Research, infuses the text with a practitioner's perspective, helping students learn how to use marketing research through a practical presentation of both theory and practice.
Preface xxi
1 The Role of Marketing Research in Management Decision Making 1
2 Problem Defi nition, Exploratory Research, and the Research Process 34
3 Secondary Data and Databases 61
4 Qualitative Research 79
5 Traditional Survey Research 106
6 Online Marketing Research 128
7 Primary Data Collection: Observation 153
8 Primary Data Collection: Experimentation and Test Markets 178
9 The Concept of Measurement and Attitude Scales 206
10 Questionnaire Design 243
11 Basic Sampling Issues 277
12 Sample Size Determination 300
13 Data Processing, Data Analysis, and Statistical Testing 325
14 More Powerful Statistical Methods 364
15 Communicating Results and Managing Marketing Research 393
Endnotes 421
Index 437
NEW Wiley Marketing Research Video Series: interviews with key personnel at leading market research companies illustrate how they apply the major concepts of marketing research to their business.
NEW Real Life Research Cases: featured in every chapter, cases on Teens and Mobile Phones, Stovetops and Laptops, the Changing Face of Motherhood, and The Carter Regional Blood Center offer current and relevant topics to underscore market research concepts. 
NEW Content on Current Topics: Includes coverage of social media and user-generated content, online tracking firms, behavioral targeting and privacy battles, and Facebook as a survey research platform.
Real World Content: real data, real people and real results are featured throughout the text to help students connect content and theory to actual business decisions.
Applied Approach: the most practical marketing research text offers a practitioner's perspective to teach students how they will use market research in future careers.
Technology: the most thorough coverage of mobile applications, data mining and analysis, and new applications such as Google Analytics and Qualtrics.