Marketing Technology as a Service: Proven Techniques that Create Value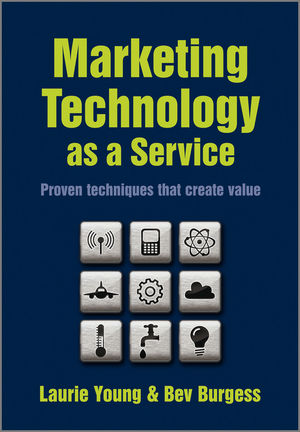 Marketing Technology as a Service: Proven Techniques that Create Value
ISBN: 978-0-470-66241-0
Sep 2015
344 pages
Description
Despite the fact that vast engineering networks are the foundations of modern society, the services that technology companies provide over them have been a relatively neglected area of study. As a result, marketing in some technology businesses has been depressingly tactical and inconsistent. Marketers with little experience, and even less professional training, run around presenting PowerPoint decks to each other, chasing after the latest fad and throwing erratic, changing activities at the market each quarter. Many work on the unchallenged assumption that markets are fast changing and that customers only want the lowest prices.

Yet this industry has liberated human imagination in the internet and convinced the world that they must have a PC and a mobile phone. Now, as a result of profound, relentless, global forces, some of the leading firms and greatest minds in it are at last turning their attention to service. With the advent of 'cloud computing' and radical changes in the engineering of some utilities, the marketing of services that are based on a technical infrastructure is about to become as important and sophisticated as in, say, consumer products. This book explores their story and experience.

"I really enjoyed the book From Products to Services by Mr Laurie Young. Encouraged by it, Haier accelerated its changeover from a traditional product-driven to a more customer-centric company. This new book Marketing Technology as a Service is another major contribution to technology companies for the cultivation of service needs worldwide." – Mr Zhang Ruimin, CEO and Chairman, Haier Group, Beijing

"Young and Burgess describe a shift in mindset and pragmatic techniques that are quite doable – Rae Sedel, MD, Global Technology Practice, Russell Reynolds Associates.

"This book provides practical and insightful advice on how to use services to turn technology into value add solutions for real people – Rudy Provoost, CEO, Philips Lighting

"Business leaders in India have been remarkably successful at offering technology based services like outsourcing across the world. Currently worth $60 billion, they intend to reach $300 billion by 2020. To succeed, the Indian business community must offer new value propositions and adapt to emerging trends, like cloud computing. Burgess and Young have put together the first comprehensive and practical guide for business leaders to meet their challenges of exponential growth." – Dr Mukesh Aghi, Chairman and CEO, Steria (India)
Foreword.
1 Technology Companies, Services and Networks.
Introduction.
The growth of the service sector.
The different types of service.
Services in technology or engineering sectors: A neglected category?
Engineering and service.
Common characteristics and issues among service businesses in technology sectors.
Is this really a distinct market or category?
Summary.
2 Marketing Services.
Introduction.
One more time: What is marketing?
Different manifestations of marketing.
The evolution of marketing in an organisation.
Marketing services.
Marketing in technology sectors.
Summary.
3 Gaining Strategic Insight into Service Markets.
Introduction.
Why market understanding is essential.
Important market dynamics to understand.
Means of gaining an objective market perspective.
Opportunity analysis.
Summary.
4 Internal Perspectives and their Strategic Impact.
Introduction.
Strategic context.
Strategic intent: The need for clarity of purpose.
Methods of determining strategic focus.
Brand equity as a source of strategic advantage.
Customer equity.
Portfolio strategy.
'Go to market' capability.
How does the company develop strategy?
Summary.
5 Creating and Positioning a Service Brand.
Introduction.
What brands are and the effect they have.
The basics of brand strategy.
Corporate branding: The brand strategy for service companies.
Practicalities: How to create a brand where none exists.
Practicalities: Repositioning and brand extension strategies as a means of entering service markets.
A note on political will and leadership vision.
Summary.
6 Innovation and New Service Design.
Introduction.
Service vision.
Common mistakes in service design.
The role of innovation and service development.
Innovation in service businesses.
Value propositions.
Differentiation and how to achieve it.
Categorisation and its implications for new service design.
Practicalities.
Summary.
7 Selling Services.
Introduction.
How people buy.
The sales strategies of technological service companies.
Creating a 'service' sales force.
Generic sales structures applicable to services.
The practicalities: Managing the sales process.
Summary.
8 Marketing and Selling Services to Major Customers.
Introduction.
Prioritising customer accounts.
Major customer sales strategies: Account management.
Partnership selling: Major account management in consultancies.
Cultural variations and their effect on account management.
Account planning.
Service quality for major accounts.
Summary.
9 Communicating with Service Markets.
Introduction.
Effective communications strategy.
Aspects of communications strategy.
Communications techniques particularly important to service companies.
Managing the creative execution.
Media planning.
Practicalities and management basics.
Communications during a crisis.
Summary.
10 Service Quality.
Introduction.
The importance of service quality.
Service quality and customer care: A recent history.
Terminology and perceived wisdom.
Analysis.
Service strategy.
Planning service quality.
Service recovery.
Satisfaction measurement.
Summary.
11 Service on the World Stage.
Introduction.
The challenge of working across borders.
International strategic considerations.
International market analysis and perspective.
International brand strategy.
International marketing communication issues.
International sales and account management strategy.
International service design.
Different international strategic choices.
Summary.
Appendix Marketing Tools and Techniques.
References.
Index.